Whitefish bond issue aims to accommodate ballooning enrollment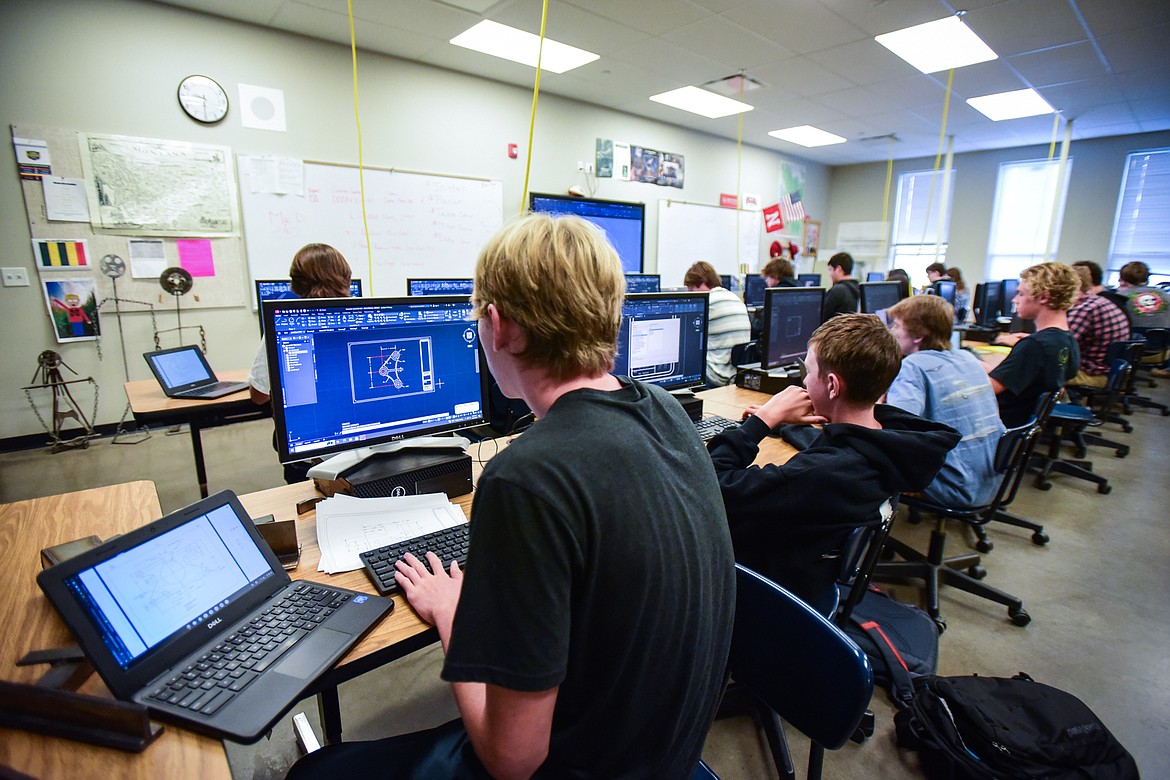 Students use AutoCAD, a 2D and 3D computer-aided design program, during Ryan Boyle's Career Technical Education class at Whitefish High School on Wednesday, Sept. 13. (Casey Kreider/Daily Inter Lake)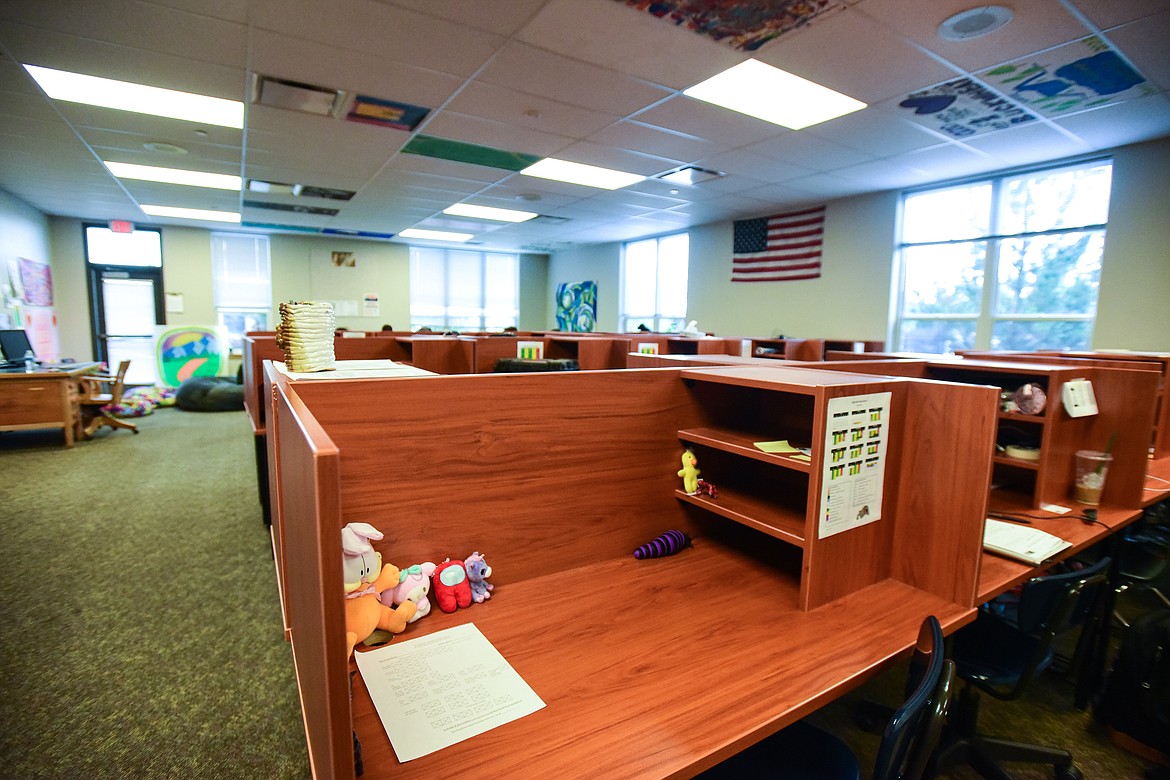 Desks for students at Whitefish Independent High School on Wednesday, Sept. 13. (Casey Kreider/Daily Inter Lake)
Previous
Next
Whitefish School District has mailed 12,230 ballots to voters who will decide the fate of a $33.7 million bond issue to address enrollment growth by expanding the high school's academic and athletic facilities.
Ballots are due Oct 3. If approved, the owner of a home with an assessed market value of $600,000 can anticipate an annual tax increase of $146.59. The duration of the bond is 20 years.
The existing high school building was designed for 600 students said Whitefish High School Principal Kerry Drown with current enrollment at about 640. The proposed construction project would create enough space to accommodate up to 880 students with the goal of addressing capacity needs for up to 20 years if enrollment grows by 2% annually, on average.
If approved, about $22.1 million of the total bond amount would fund construction of 24 classrooms, shops and labs contained in two additions, making an impact on the school's ability to offer Career and Technical Education classes. One L-shaped addition would be located on the north end of the high school, flanking the Center for Sustainability and Entrepreneurship. The other addition would be located on the southeast corner.
The kitchen and independent high school would be expanded internally.
"Our student store, business room and the art room, these three spaces right here are immediately adjacent to the independent high school. This is the space that would be remodeled and [the independent high school] moved into this space," Drown during a tour of the high school Sept. 13.
Independent high school teacher David Perisho said the school serves 34 students. Perisho said this year only eight students were accepted due to space. Drown said there's a waiting list.
"We envision up to 75 students. As our overall enrollment grows there's a need for various programs including the independent high school," Drown said.
"Our vision is to support more of a project-based learning (PBL) model," Drown said.
"I think utilizing and having more space for PBL is going to be critical," Perisho added.
Perisho said project-based learning is where students investigate typically real-world problems over a longer period of time.
"Through that exploration, that's where all the learning occurs. So it's the process. It's really diving deep into something your passionate about. Through that, you can obtain credit in various subject matter once there's a public product," Perisho said, such as a product or presentation.
"We actually won the [Jobs for Montana Graduates] project-based learning competition last year in Helena, which was pretty cool," Perisho said. "Students actually facilitated cross-country skiing for the fourth graders."
Not turning students away is also the goal of Career and Technical Education classes such as culinary arts, welding and woods.
A fragrant aroma led to the next stop on the tour, the culinary arts classroom. Inside, the room was abuzz with students clustered around stoves and countertops, cooking. Culinary Arts teacher Jason Sanders said more room would allow more students take take classes.
"Right now, I have 200 per year take it and, anywhere from between 300 to 400 can try to take it," Sanders said. "We want to give the opportunity to everybody that wants to take it."
MORE SPACE gives the school potential to add courses that teach skills in demand in the local economy such as hospitality and restaurant management, for example.
The next stop was a computer-aided drafting lab that neighbored a shop shared by welding and woods. The shared shop means only one class can take place at one time. Industrial technology teacher Bryan Boyle said this results in students being turned away.
"We have nice equipment, but it's a very congested space," Boyle said.
Drown said the decision to have the two programs share a shop stems from paring down the last major high school construction project after bond issues failed in 2003 and 2008.
That last major construction project was funded through a $14 million bond passed in 2012 and the school's $19 million budget was aided by tax-increment financing money and private donations that brought up the total cost to $23 million.
"When we moved into this high school we had 450 students," Drown said.
Drown said the current bond request if approved, will bring the square footage up to what was proposed in 2008.
If completed, the project would also allow classes currently housed in an annex building to move back to the high school.
"We're using it for several classrooms. Our high school students walk over there each period," Drown said. "It's about a six- seven-minute walk."
The annex building is the remodeled kindergarten wing of the old Muldown Elementary School. A new elementary school was built and funded by a 20-year $26.5 million bond passed in 2017 to replace aging infrastructure and accommodate enrollment growth.
Once students relocate, Drown said it would depend on what needs arise as to how the annex will be used. He said having that flexibility is a helpful short-term solution to handling growth in any of the district's three schools.
"It depends on where those needs arise. The district office is currently located in the middle school, so if the middle school has growth issues, it might bump some of the district office components, and they might need to move," he said.
THE REMAINING $11.6 million of the total bond amount would be used to build an athletic complex. The district has noted that participation in sports has grown by 25% over the past decade. The athletic complex would feature a new football/soccer field, practice field and multipurpose building. Drown said the high school track will need to move to accommodate the other fields in the proposed layout.
The district currently leases Memorial Field and Smith Fields sports complex from the city for its athletic programs. In addition to leasing, the school invests money in property upkeep during the athletic season.
"We have to fertilize, and we have to mow, and we have to stripe, and we have to put goalposts in and then take them down," he said, giving examples.
Drown said the school has leased the fields in the 30 years he's worked for the school where he started out as a math teacher and football coach.
He said the leased fields are fine in regard to playing surface and can accommodate regular Class A home games, although he did say there are accessibility issues with seating at Memorial Field and there are no bleachers or permanent bathrooms at the track.
"But as far as like hosting divisionals, and state level tournaments and events, yeah, there are some limitations that we just can't meet right now," he said.
Trustees unanimously approved the bond following a committee's year-long review of concepts and community feedback. The 31-member committee was made up of administrators, staff, trustees, parents, community members and employees with Cushing Terrell, an architecture and design firm.
Ballots can be mailed or dropped off at the district office at 600 E. Second St.
Reporter Hilary Matheson may be reached at 758-4431 or hmatheson@dailyinterlake.com.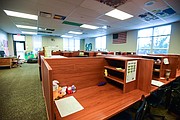 Recent Headlines
---