UM fall enrollment tops 10,000 students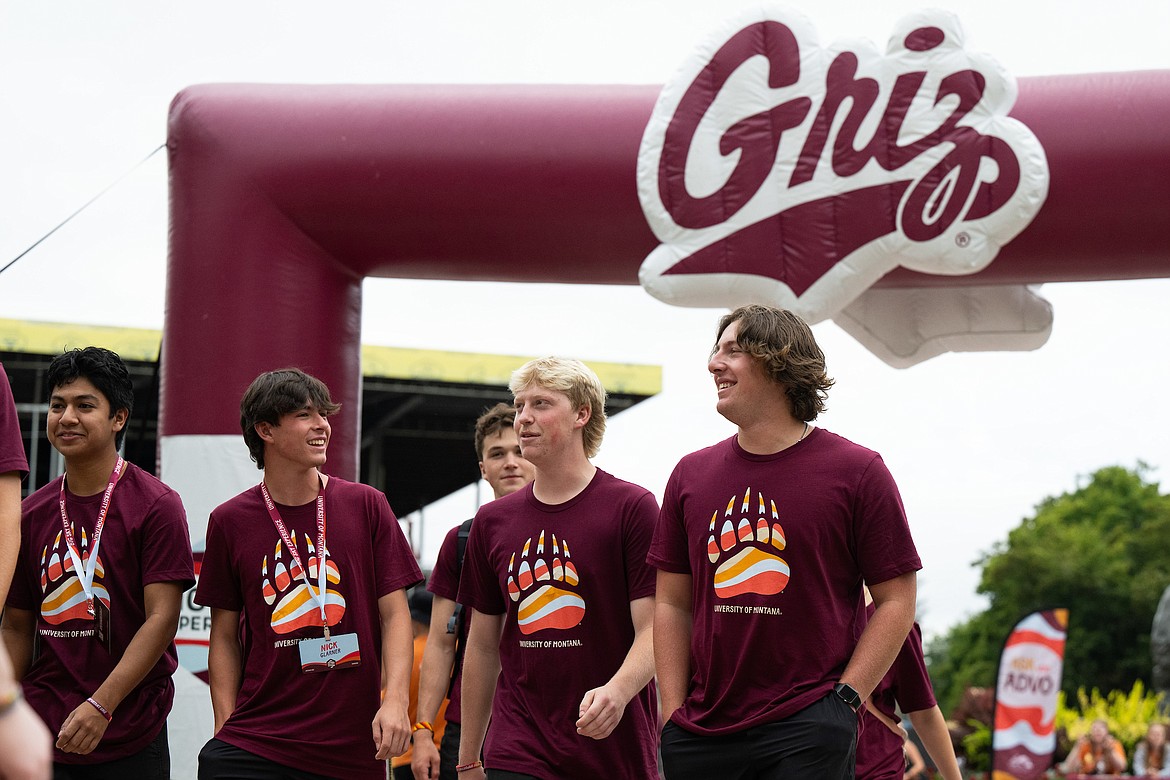 UM first-year students arrive on campus during orientation. (UM News Service photo)
MISSOULA – The University of Montana's enrollment ascent continues, driven by a 3.7% increase in total student headcount – the largest annual growth rate in 14 years.
In total, 10,327 students are enrolled at UM this fall, which is 372 students higher than 2022.
"With the largest single year of percentage gain in enrollment since 2009, the University of Montana is firmly ingrained in a period of growth," said UM President Seth Bodnar in a press release. "By combining a record student retention rate with three consecutive years of growing incoming classes, our University's growth trajectory is on a clear and upward path."
The growth in enrollment is powered by 1,373 new first-year students, which is the largest incoming class at UM in seven years. Among the first-year students on campus, 799 are Montana residents, representing a 12.5% increase of Montana first-year students compared to last fall. Since fall 2021, UM's Montana new, first-year, resident student enrollment has increased by over 20%.
"We have invested significant time and labor to prioritize serving Montana students," said Mary Kreta, UM vice president for enrollment management and strategic initiatives. "As a result, UM has enrolled hundreds of additional Montana-resident students over the past two years, and we have no plans to take our foot off the gas pedal."
The growth in first-year Montana-resident students underscores the success of UM's Grizzly Promise initiative. Launched in December 2022, Grizzly Promise provides resident Montana students whose families earn less than $50,000 annually the opportunity to attend UM tuition free.
Overall, 66.5% of UM students are Montana residents.
UM's student retention rate rose 2% to 76% this fall, which is an all-time high. This figure measures the rate that students persist between their first and second year at UM. Since taking over as president in 2018, Bodnar has helped raise the student retention rate by 8%.
The growth at UM isn't just on the main campus. Missoula College, UM's two-year college, enrolled 1,436 total students this fall. This is an 18.2% increase over last year – including 393 Missoula-area high school dually enrolled students – a 104.7% jump over 2022.
The growth in recent years at UM has also bolstered the University's finances. This fall, tuition revenue for the University is $43.6 million, which is 11.7% higher than the same period in 2022.
"This strong census report reflects UM's growing fiscal strength," said Paul Lasiter, UM vice president for operations and finance. "These additional resources will allow us to continue making the kinds of investments needed to ensure our students succeed."
Additionally, UM's AccelerateMT enrolled 827 students in non-degree, short-term workforce development programs over the past year. These courses are taught in conjunction with local businesses to meet growing labor demands.
UM also has made strong progress in recent years to tear down barriers to education for numerous student populations. In fall 2023, Native American student enrollment is up 5.2%, with 750 Native students enrolled. Since 2018, the number of Native Americans enrolled at UM has increased by 30%.
The 2,066 first-generation students enrolled at UM represent a 5.6% increase over 2022. Currently, 23.2% of UM students are the first in their family to attend college and the number of veteran students on campus is up to 335, which is a 20% increase over the previous year.
"UM's mission is to achieve inclusive prosperity," Bodnar said. "Our ability to adapt and innovate to accomplish this mission is illustrated by the numerous ways we are meeting the needs of our state. With Montana's largest graduate school, dual-enrollment population and workforce development programs, we are ensuring every Montanan has a pathway to access the education and training needed to secure a higher-paying job."
Recent Headlines
---