19-year-old rescued from Huckleberry Mountain in May avoids double amputation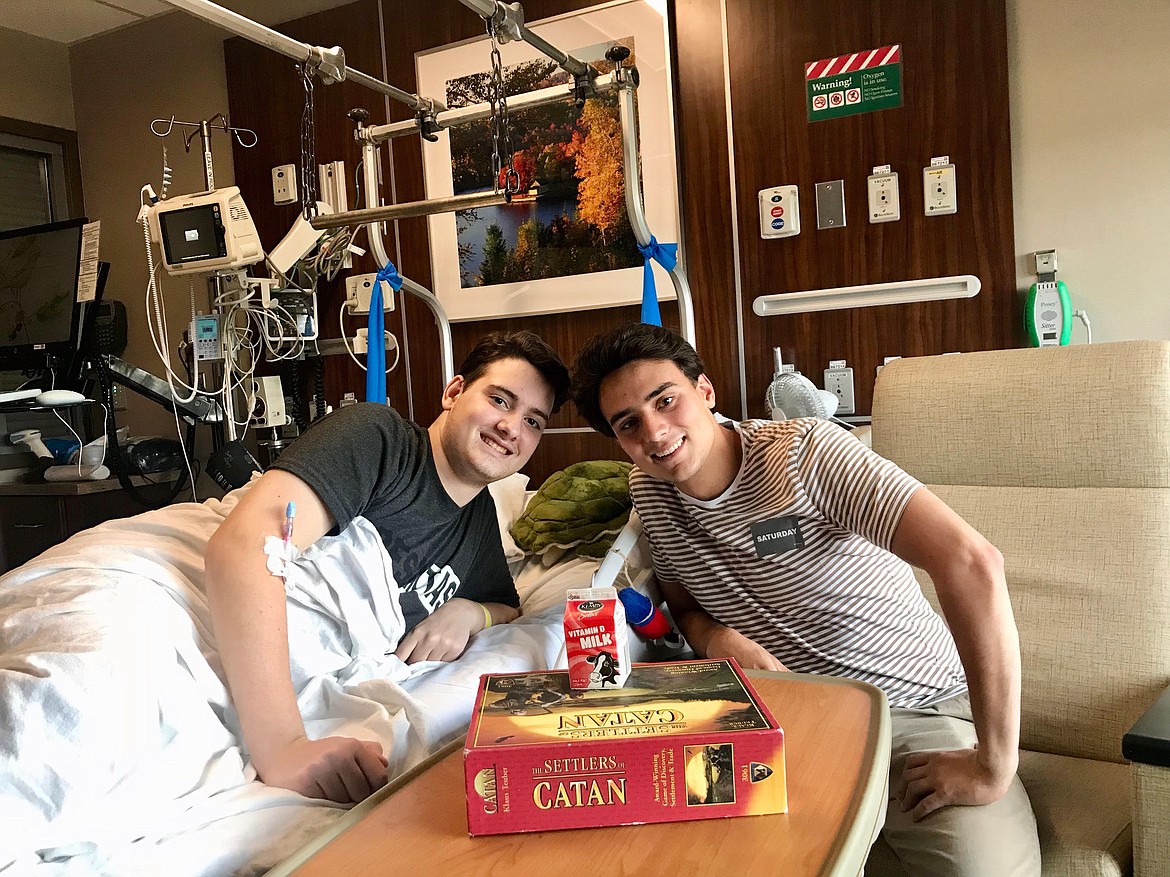 19-year-old Matthew Read gets a visit from cousin Jeremy Read during his stay at the Mayo Clinic in Minnesota. (photo provided)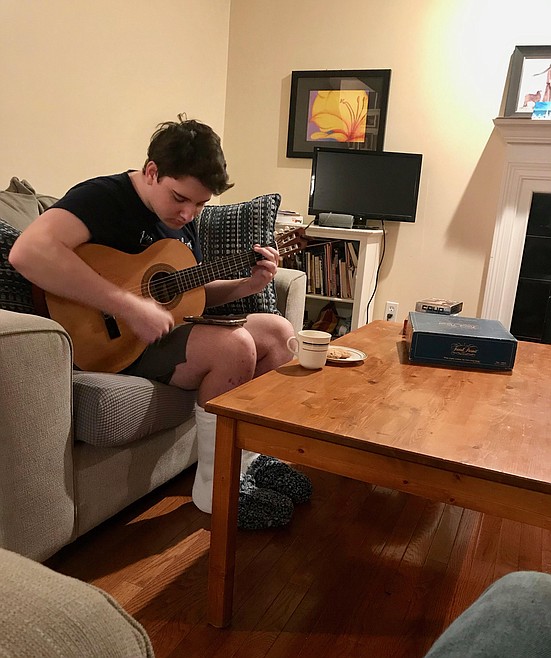 19-year-old Matthew Read plays guitar in his family's Michigan home while he makes his recovery from frostbite, which he contracted after being lost for several days in Glacier National Park this spring. (photo provided)
Previous
Next
by
TAYLOR INMAN
Daily Inter Lake
|
September 26, 2023 12:00 AM
Told to expect a double amputation below the knees owing to frostbite, the 19-year-old from Michigan who spent several harrowing days lost in Glacier National Park in early May is now battling to make a full recovery without the loss of his extremities.
Matthew Read stopped in the park during a road trip home from Brigham Young University in Utah and hiked the Huckleberry Lookout trail on May 5, a Friday afternoon. During his trek to the top, he slipped into an unnamed drainage on the east side of Huckleberry Mountain and descended into chest-deep snow, losing his phone, water bottle and shoes. Deciding he could not make it back up to the trail, Read started working his way down the drainage. He was found using heat signature technology by Two Bear Air at around 11 p.m. on May 8.
Read's mother Barbara told the Daily Inter Lake that he was flown to the Mayo Clinic in Minnesota on May 11 after being told a double amputation below the knees was likely. He was a patient there for five weeks; aside from his recovery from hypothermia, the biggest hurdle was going to be the pain from frostbite in his legs and feet.
But he has exceeded expectations during every checkup. Read remembers the moment after his team of doctors at the Mayo Clinic met with him for the examination that was key to whether or not he would lose his lower legs.
"We were very worried going into that, because they were essentially determining whether I'd need an amputation right then," Read said. "There was an infection that they had to deal with, things along that line. But they ended up deciding to just wait and said that there's a chance I could keep a lot more than I was initially expecting."
He said when he was in Montana, it looked like the affected tissue went most of the way up his shins. But he began to heal. Every visit with his medical team going forward became less stressful for Read, his family and his doctors.
Barbara said many times people opt for an amputation because of the pain and inconvenience associated with the length of time it takes to heal. But Matthew decided early on that he was going to try to save his feet.
"The surgeon said, 'Well, let's move forward as if you are keeping them.' So, that's the point where they started having him flex his ankles and kind of get everything in place if he were to keep his feet," Barbara said. "And then there was one visit where [the surgeon] looked over at Matthew and he said, 'I think you're gonna keep your feet."
She said that felt like a turning point coming from an accomplished surgeon who specializes in limb amputation. Read also received hyperbaric oxygen treatments, which Barabara credits as a huge part of his recovery. A GoFundMe set up by the family paid for Read to continue those treatments at home in Michigan.
Barbara said the family is thankful to everyone who donated and who continues to contribute, as the money goes toward Read's uncovered medical costs. She said friends also came together to buy him a Nintendo Switch, so he can distract himself during his dressing changes.
She said they are also thankful to Read's doctors at the Mayo Clinic. Dr. Noelle Larsen, an orthopedic surgeon at the clinic, "moved Heaven and Earth" to get Read into Mayo, according to Barbara, because the hospital was completely full and refused admission until she helped get him transferred.
Read is able to "pad around" his family's home, where he is making his recovery. He continues to need two dressing changes everyday, a refresh of the bandages that wrap around where he suffered frostbite.
Since he is unable to do much besides focus on his recovery, Read is exploring hobbies.
"I don't have a lot of mobility so that limits my options, but I do play a lot of board games," Read said. "And I've picked up guitar out at college and have been practicing that quite a bit as well. But [it's] just a lot of trying to keep my mind off of it."
He is taking a break from college to focus on recovery right now, but anticipates taking online courses during the upcoming winter term.
Barbara said the family is considering making a trip back to Glacier National Park next summer to visit with the people who helped during Read's rescue. Even though he is showing signs of great improvement, she stressed the need for patience.
"There's no fast way through it … we'd like it to already be done or have healed over the summer, but there just isn't any fast path through it," Barbara said. "And so we just, you know, face each day, and it's going really well."
Read said in May that he drew upon skills he learned as an Eagle Scout when he was surviving in Glacier's wilderness. After he makes his recovery, Read said he'd like to get back to spending more time outdoors.
"At some point, I'll be able to walk and do more outdoor activities, like maybe some hikes and seeing more national parks. We'll have to see, but it's looking good," Read said.
Read's GoFundMe can be found at gofundme.com/f/matthew-read-recovery-help.
Reporter Taylor Inman can be reached at 758-4433 or tinman@dailyinterlake.com.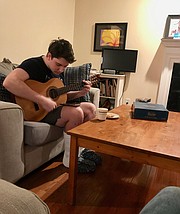 Recent Headlines
---