Montana judge blocks enforcement of law to ban gender-affirming medical care for minors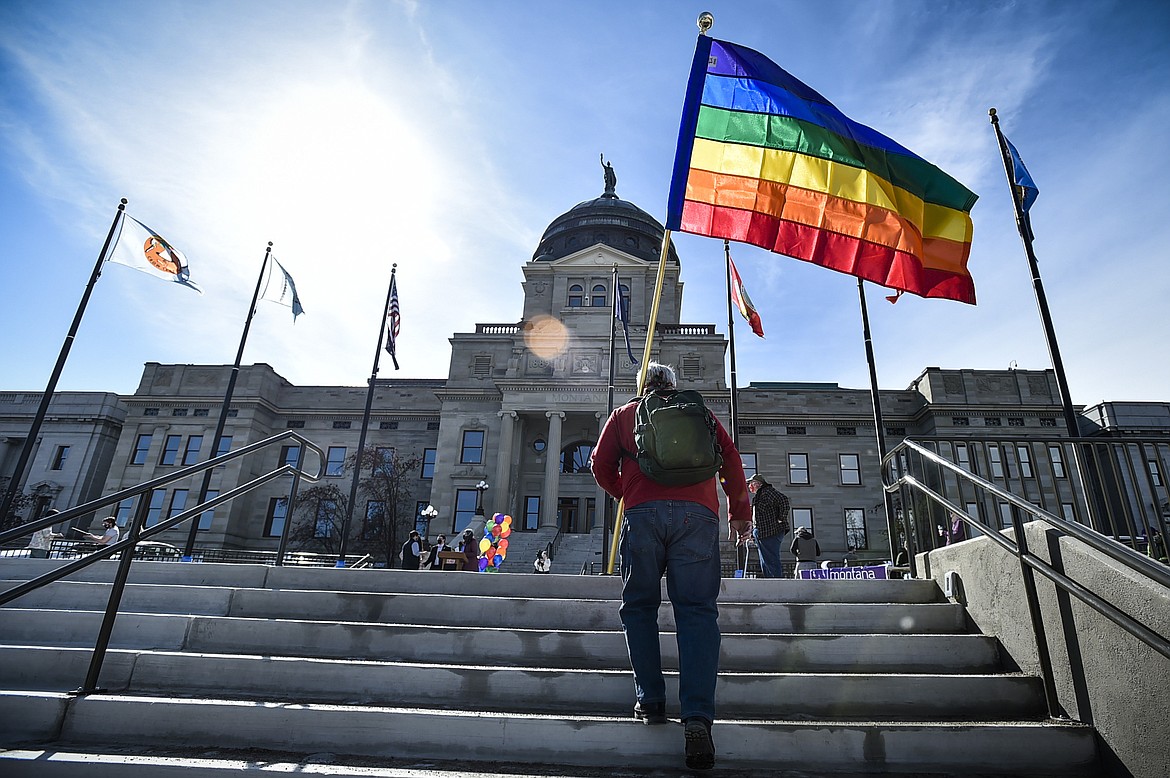 Demonstrators gather on the steps of the Montana state Capitol protesting anti-LGBTQ+ legislation in Helena, Mont., March 15, 2021. A Montana state judge Wednesday, Sept. 27, 2023, has blocked enforcement of a law to ban gender-affirming medical care for minors. (Thom Bridge/Independent Record via AP, File)
HELENA (AP) — A Montana law banning gender-affirming medical care for transgender minors is temporarily blocked, a state judge ruled Wednesday, just four days before it was to take effect.
District Court Judge Jason Marks agreed with transgender youth, their families and healthcare providers that a law passed by the 2023 Montana Legislature is likely unconstitutional and would harm the mental and physical health of minors with gender dysphoria.
The preliminary injunction blocking the law will remain in effect until a full trial can be held on the issue, but Marks has said he expects his decision will be appealed to the Montana Supreme Court.
"Today's ruling permits our clients to breath a sigh of relief," Akilah Deernose, executive director of the ACLU of Montana, said in a statement. "But this fight is far from over. We look forward to vindicating our clients' constitutional rights and ensuring that this hateful law never takes effect."
Montana is one of at least 22 states that have enacted bans on gender-affirming medical care for minors and most face lawsuits. Some bans have been temporarily blocked by courts, while others have been allowed to take effect.
All the laws ban gender-affirming surgery for minors. Such procedures are rare, with fewer than 3,700 performed in the U.S. on patients ages 12 to 18 from 2016 through 2019, according to a study published last month. It's not clear how many of those patients were 18 when they underwent surgery.
In Montana's case, transgender youth argued the law would ban them from continuing to receive gender-affirming medical care, violating their constitutional rights to equal protection, the right to seek health and the right to dignity.
Their parents said the law would violate their constitutional rights to make medical decisions for their children and two medical providers said it would prevent them from providing effective and necessary care to their patients.
"Montana's ban is a direct assault on the freedom and well-being of transgender youth, their families, and their medical providers," Malita Picasso, staff attorney for the American Civil Liberty Union, said in a recent statement.
The law sought to prohibit the use of puberty blockers, cross-sex hormones and surgical treatments for gender dysphoria, while still allowing cisgender minors to receive puberty blockers to treat early puberty or surgical procedures to treat intersex conditions.
Treatments for gender dysphoria meet standards of care approved by major medical organizations including the American Medical Association and the American Academy of Pediatrics, the ACLU argued in its complaint.
Allowing the ban to take effect would cause irreparable harm to transgender minors who are receiving treatment, in part by exacerbating the anxiety and depression they feel because their body is incongruent with their gender identity, Picasso argued during a Sept. 18 hearing for the preliminary injunction.
The state countered that beginning the treatments put transgender children on a "path of no return."
"A child cannot possibly consent to the treatment that permanently and irreversibly changes secondary sex characteristics, nor can a child consent to future infertility and sterilization, future sexual dysfunction and a lifetime of hormone treatments and other forms of medicalization and resulting complications," Assistant Attorney General Russell argued.
Recent Headlines
---