Steak takes advantage of fall produce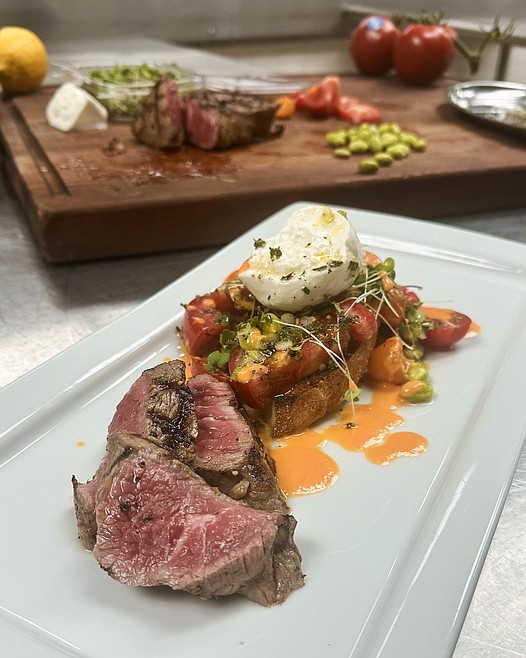 |
September 27, 2023 12:00 AM
Our glorious Montana summer is fading into the rich flavors of fall. This recipe is the perfect way to utilize your last few heirloom tomatoes for a tasty dinner full of fresh garden flavors. Chef Howard Karp, Executive Chef at FVCC's Culinary Institute of Montana, adapted this recipe from several other recipes which come together in a delicious result. There are several easy components that come together as you plate the entrée. Put all the components in order as an assembly line and then you can quickly assemble and serve the plates.
SHOULDER SEASON STEAK
YIELD: 4 servings
INGREDIENTS
Tomato Vinaigrette
1 garden tomato
1 oz vinegar, champagne
Dash vinegar, sherry
3 oz oil, extra virgin olive
2 sprigs tarragon, fresh, chopped (remove leaves from stem first)
Salt and ground pepper to taste
Lemon Thyme Vinaigrette
2 T lemon juice, fresh
1 garlic clove, fresh, minced
½ t thyme, fresh, chopped
2 oz oil, extra virgin olive
Salt and ground pepper to taste
Garlic Mayonnaise
4 oz mayonnaise
2 garlic cloves, fresh, minced
4 thin slices ciabatta bread
8 oz tri-tip steak
2 heirloom tomatoes, sliced
12 cherry tomatoes, halved
8 oz burrata, cut into quarters
4 oz edamame
Microgreens or pea tendrils
Salt and ground pepper to taste
INSTRUCTIONS
1 Season meat with salt and pepper on both sides. Set aside.
2 For tomato vinaigrette, blend tomato and vinegars in blender until smooth. Emulsify by drizzling oil through hole in lid while blender is on. Stir in chopped herbs, season with salt and pepper, and set aside.
3 For lemon thyme vinaigrette, whisk together lemon, garlic and thyme in a bowl. Place bowl on damp cloth on the counter so it won't slip as you add oil. Emulsify by slowly whisking oil into lemon mixture and season with salt and pepper.
4 For garlic mayonnaise, combine garlic and mayonnaise and then season to taste.
5 Grill steak to desired doneness. Set aside to rest for 3-4 minutes. Cut into ¾ inch slices.
6 Toast ciabatta and spread with garlic mayonnaise while warm.
7 Assemble dish: place ciabatta on plate and top with sliced tomatoes. Sprinkle cherry tomatoes over top. Place burrata on top of tomatoes. Drizzle tomato vinaigrette over top. Garnish with sprouts or tendrils. Place steak next to tomato ciabatta and drizzle with lemon thyme vinaigrette.
8 Serve and enjoy!
Manda Hudak is the Program Director/Chef Instructor at Flathead Valley Community College's Culinary Institute of Montana. For more information, visit fvcc.edu/culinary
Recent Headlines
---