As writers reach tentative deal and actors look ahead, here are the Hollywood Strikes' key players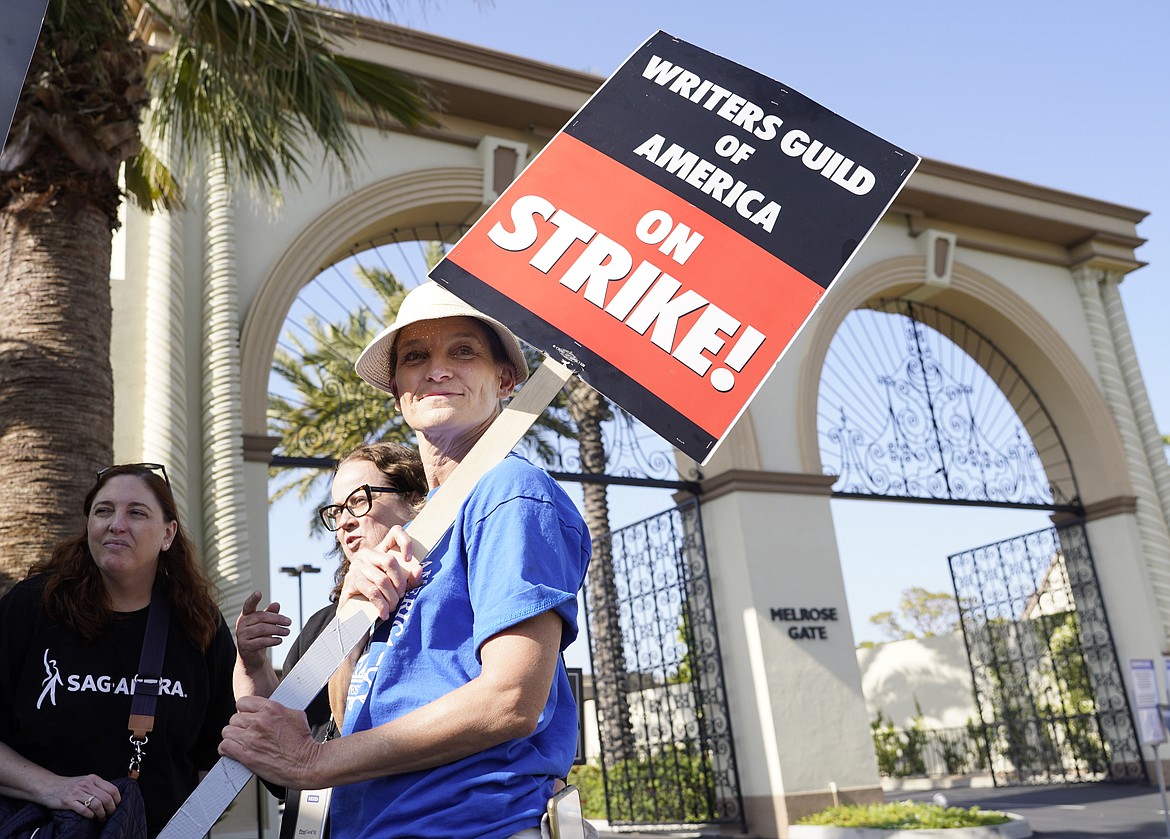 The increase also complicates the global fight against inflation and feeds Russia's war chest. That poses problems for politicians as well as the people having to spend more to get to work, transport the world's goods or harvest fields.
LOS ANGELES (AP) — The double-barreled strike that brought Hollywood to a halt may be half over after a tentative deal has been struck to return screenwriters to work after nearly five months.
The two sides had been divided on issues of pay, the size of writing staffs on shows and the use of artificial intelligence in how scripts are created. The agreement, still subject to the approval of union members, was reached Sunday night after five days of lengthy negotiations.
Actors, who joined the writers on strike in July, have their own issues but there have been no discussions about resuming negotiations with their union yet. That is likely to change now.
Here's a look at the key figures who helped reached the agreement, and those who could make the next one.
CAROL LOMBARDINI
Her name is little known outside the industry, and she nearly never speaks to the media, but as head of the opposition in both the writers and actors strikes, Carol Lombardini is arguably the most important single figure in Hollywood's labor stoppage.
For 14 years, she has led negotiations for studios in contract talks with all of Hollywood's unions and guilds, including the talks that concluded in Sunday night's tentative deal. Many of the past negotiations she's headed had come to the brink or run past deadlines, but none had ever led to a strike, much less two, before this year.
Since 2009, Lombardini, a lawyer has been president and chief negotiator of the Alliance of Motion Picture and Television Producers, the conglomeration of studios, streaming services and production companies that creates contracts with unions.
She grew up in a working class suburb of Boston, got a degree in Renaissance history from the University of Chicago, and earned a law degree from Stanford. She worked for a pair of private firms before joining the AMPTP as an attorney when the group was first formed in 1982.
A respected if adversarial figure in years past, she become the target of much of strikers' vitriol. She appears often on picket signs and is the subject of many parody social media accounts.
ELLEN STUTZMAN
Ellen Stutzman was the one sitting across the table from Lombardini in the failed negotiations that led to the writers strike, and in the successful talks that led to a deal. It is not a seat she expected to occupy when the year began.
Stutzman, also an attorney, took over as chief negotiator for the Writers Guild on Feb. 28, just two weeks before contract talks began. She entered the role after longtime lead negotiator David Young, who led the guild through the 2007-2008 strike, stepped down for health reasons.
She still has the title from her previous role: assistant executive director for the Writers Guild of America West. Stutzman joined the union as a researcher in 2006. Researching the union's issues and educating union members, government officials and the public on them are a specialty.
"We would tell the viewers and the public that writers are fighting to have a career, and to have a viable profession, and to continue to create the shows and movies that people in this country and around the world love," Stutzman told The AP on the first day of the writers strike in May.
Generally regarded as more low key and less combative than Young, Stutzman played a key role in writers' 2019 fight with agents, in which WGA members fired their representatives en masse over plans by Hollywood's major talent agencies to expand into production. The union also sued the agencies, calling the potential move a conflict of interest and a violation of antitrust law. That battle — which the writers won — in some ways served as a dress rehearsal for the strike to come.
Stutzman graduated from the School of Industrial and Labor Relations at Cornell University in 2004 and worked for the Service Employees International Union-United Healthcare Workers before joining the Writers Guild.
THE EXECUTIVES
Lombardini and the AMPTP represent a coalition of more than 350 companies, but as in the entertainment industry itself, a few giants dominate.
Three leaders have come to embody the group: Disney CEO Bob Iger, Warner Bros. Discovery chief executive David Zaslav and Netflix co-CEO Ted Sarandos.
The trio, along with NBCUniversal chair and chief content officer Donna Langley, took a direct role in restarting negotiations and were in the room for three long days of negotiations starting Wednesday before handing things over to Lombardini and the lawyers on the weekend.
A similar effort by the same foursome to restart talks a month earlier had quickly sputtered, with the writers guild saying they were lectured to rather than bargained with.
As chief executive of entertainment's biggest behemoth, Disney's Iger would always have been a target for strikers. But a new contract reportedly worth more than $30 million annually, the day before the actors strike was called, and his comments the following day, made him the first name on the lips and signs of many strikers. Iger said that it was "the worst time in the world" to add to the disruptions the industry's already facing.
The industry's shift to a streaming model is behind most of the issues that led to the strikes. Netflix pioneered that model, and Sarandos has come to signify it for strikers. Sarandos joined Netflix in 2000, shortly after its founding, and initiated its move into original programming with "Lilyhammer," "House of Cards" and "Orange is the New Black."
As CEO of Warner-Discovery, Zaslav, for strikers, embodies the entertainment executive who shifts away from elite creative programming toward reality TV and other less vaunted programming, most manifest on Max, the streaming service that under his watch dropped "HBO" from its name.
Before the strikes began he was already scorned by many on the creative side for shelving nearly finished projects like "Batgirl" and turning them into tax write-offs.
FRAN DRESCHER
Fran Drescher is the strikes' most famous face, both for her starring role in the 1990s sitcom "The Nanny" and for the speech she made that gave a spark to actors as their strike was announced.
Drescher was re-elected Sept. 8 president of the Screen Actors Guild-American Federation of Television, a job she's had since 2021.
She shook the leadership reins of SAG-AFTRA with her fiery speech at the news conference announcing the strike on July 14. Drescher told The Associated Press in an interview that she had scrapped a written statement moments before, and improvised.
"When you speak from the heart, people are so responsive," Drescher told The AP. "Because I guess they see a lot of people that don't. And so it kind of cuts through the noise when it does."
Drescher was born, raised and went to community college in Queens, New York. She had a series of increasingly memorable small roles, usually playing brash New Yorkers, starting with "Saturday Night Fever" in 1976.
She became a household name when she co-created and starred in "The Nanny." The series ran on CBS from 1993 to 1999 and took much of its inspiration from her life.
WRITING PRESIDENTS
As always, writers toil in (relative) anonymity compared to the famous actors they write scripts for. Drescher's less-known counterparts on the writers' side — technically two unions that unite for negotiations and strikes — are Meredith Stiehm and Lisa Takeuchi Cullen. Stiehm was reelected Sept. 19 as president of the Writers Guild of America West and Takeuchi Cullen was elected president of its counterpart in the East for the first time two days later.
Stiehm is the Emmy-winning creator of the early 2000s CBS crime procedural "Cold Case" and co-creator of "The Bridge" on FX. Takeuchi Cullen's credits whose include the TV shows "The Ordained" and "Law & Order: SVU." She replaces the outgoing Michael Winship, who had been president for most of the strike.
Both women will serve two year terms, and now may be able to put down their picket signs and pick up their pens again.
DUNCAN CRABTREE-IRELAND
Hollywood's guilds operate like cities that have an elected mayor who sets the agenda, and a city manager who oversees operations more directly. If Drescher is SAG-AFTRA's mayor, Duncan Crabtree-Ireland is its city manager.
Crabtree-Ireland, who has worked for the guild for more than 20 years, became its national executive director and chief negotiator shortly after Drescher took office.
He took an unlikely path to get there. Born in Memphis and raised in London and Dallas, Crabtree-Ireland went to college at Georgetown and law school at the University of California, Davis. He worked for several years as a criminal prosecutor in Los Angeles before taking a left turn and becoming a staff attorney for SAG-AFTRA in 2000.
"I get asked to talk to law students about careers from time to time, and I always preface the story by saying I can't, I don't encourage you to try to replicate this because I've no idea how it happened," Crabtree-Ireland told the AP in an interview. "I never thought I'd be here."
He would be tested quickly after getting the job. The first contract talks for film and TV actors under his role as chief negotiator resulted in their first strike in more than 40 years.
His return to the negotiating table now appears to be imminent.
Recent Headlines
---