Apartment project proposed at Whitefish's south entrance
by
MATT BALDWIN
Daily Inter Lake
|
September 28, 2023 12:00 AM
Plans emerged Monday for a large mixed-use development at the south gateway to Whitefish that would include more than 200 apartment units.
The approximately 11-acre parcel on the southeast corner of the U.S. 93 and Montana 40 intersection currently is under Flathead County jurisdiction, but Whitefish City Council will consider an option to annex the property at its next regular meeting Oct. 2.
The city growth policy calls for Business Transitional District zoning at the high-traffic intersection.
Lead developer Alberto Valner said the "Alpine 93/40" project will help alleviate some of Whitefish's housing needs with the addition of 210 units, including 21 deed-restricted affordable units that will be created under Whitefish's voluntary Legacy Homes Program. The program offers incentives, such as building standard deviations, in exchange for affordable units or cash in lieu.
"These are not luxury apartments," Valner told the Pilot. "We want to provide attainable and affordable housing."
Aside from the deed-restricted units, the remaining will be market-rate rentals, he added.
According to a promotional website for the development, the goal of the project is to create "an iconic and first-class entrance to the city of Whitefish by providing a neighborhood with outstanding landscaping, architecture and amenities."
Valner said the proposed project does not deviate from what's allowed under zoning.
"The option [to annex] for the city is fairly simple," Valner said. "Do they want to provide more housing … or do they want another storage facility at the city entrance?"
Project plans indicate the neighborhood will include a gym, playground, dog park and share-use paths along the highways. Renderings show a clock tower at the entrance, with courtyards dispersed throughout six buildings that would be two and three stories in height. Other amenities would include roof patios, community fire pits, a designated bus stop area, and covered parking.
About 15,000 square feet of retail space is proposed, as well, which Valner said would be filled with neighborhood-type businesses like a coffee shop or small restaurant.
"We don't want this to be a massive driver of traffic," he said about the commercial space.
Access to the property would be off of Montana 40 and Emerald Drive. Valner said the Montana Department of Transportation has OK'd plans for the Montana 40 access point. People exiting the property on Montana 40 will only be allowed to turn east, he said, due to safety issues.
Valner said his team has talked with residents in the Emerald Drive neighborhood, and that they plan to work with the homeowners on their concerns with traffic, street maintenance and fencing.
A project timeline forecasts phase one construction could begin as early as next summer, with the first units being complete by the end of 2025 or early 2026.
Valner is the president of Los Angeles-based real estate company Kibo Group. He said he purchased a home in Whitefish five years ago, and now lives in town part time.
Valner would purchase the Alpine 93/40 property from the current owner Edward T. Baur.
He said he is working with two other local partners on the project.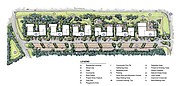 Recent Headlines
---