In Glacier National Park, this toilet melds into the landscape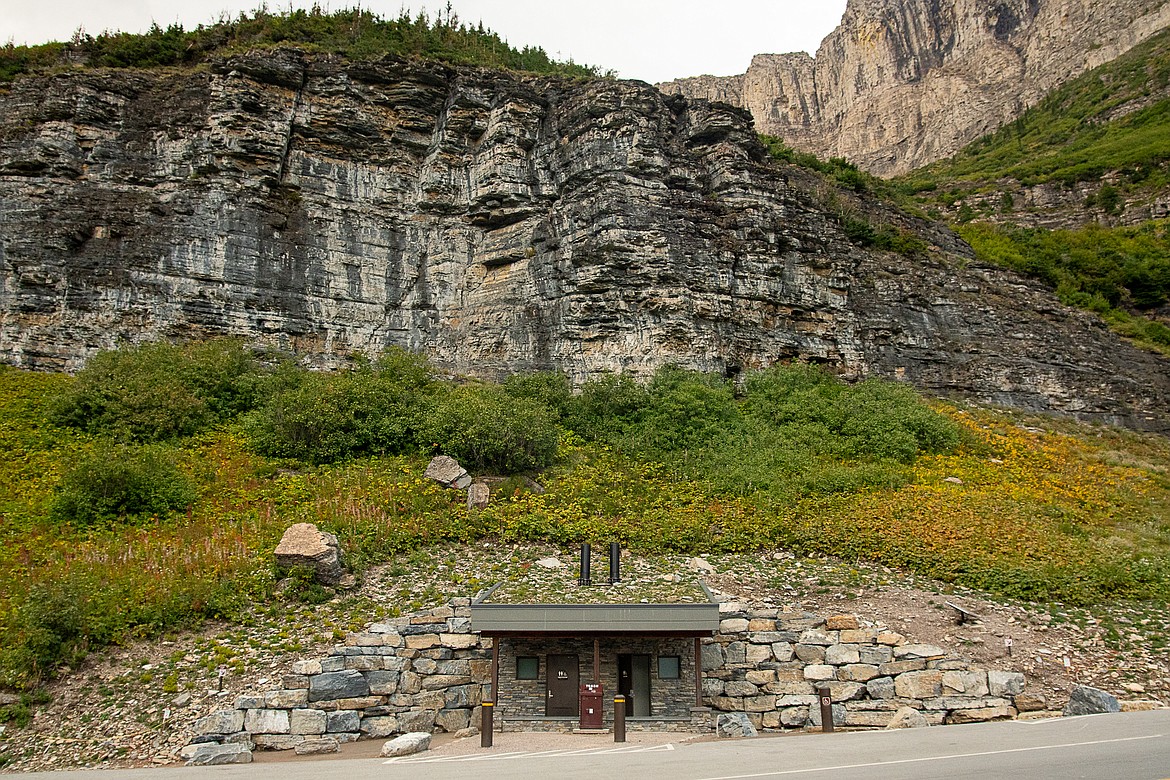 The bathroom at Big Bend. (Avery Howe photo)
Over the years, Glacier Park has added a host of bathrooms along the Going-to-the-Sun Road at several pullouts.
But if there was ever a toilet that fit the landscape, it would be the new one at Big Bend -- one of the most popular stops, save for Logan Pass -- along highway.
The toilet is built into the slope, tucked into a cliff. Its roof sports natural rock and has native plants growing out of it and its location is in a protected spot where massive avalanches course around it in the winter and spring, rather than swiping the structure down the mountainside.
The toilet was designed by Jim Foster, Glacier's chief of facility management.
"My legacy is probably going to be putting bathrooms in the park," Foster quipped during a recent interview.
In 2019 Foster said he drew out a sketch for a bathroom at Big Bend, which, as its name implies, is a wide bend on the Sun Road. It sees some gigantic avalanches in the winter and spring, but there's a small point of rock under a cliff where a toilet would fit.
That was the place for the bathroom.
Foster worked with Glacier architect Kim Hyatt on the final design. They added a stone facade that blends into the landscape and set the toilet into the slope.
The roof, supported by steel beams, is covered in natural stone and soil and park crews planted native species into its unique roof.
Work began in 2021 and finished in 2022. It opened in 2023.
The toilet's vents are taken out in the fall and capped so it doesn't fill full of snow.
All told, it cost about $200,000. Like other pit toilets in Glacier, crews have to pump it out; there is no septic system.
Toilets might not seem like a big deal, but they are an important visitor service. Pullouts that don't have toilets typically have de facto ones -- like it or not — in nearby bushes.
Human waste often attracts animals, particularly goats, sheep and rodents, because they lick the salt from urine and other waste.
Since Sun Road reconstruction began in earnest in 2008, Glacier has added bathrooms at Road Camp, the Loop, Logan Pass and Sun Point, to name a few.
Recent Headlines
---