WTC holds auditions for 'A Christmas Carol'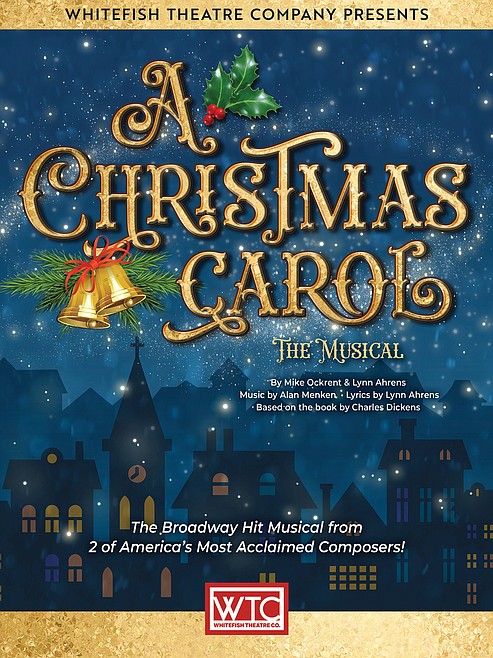 |
September 28, 2023 12:00 AM
The Whitefish Theatre Co. is holding auditions for their holiday musical production of the 2023- 2024 season.
Auditions for "A Christmas Carol: The Musical" will be held on Sunday, Oct. 1 and Monday, Oct. 2. This show has a large cast and people of all ages, fourth grade and up, are encouraged to audition. Auditions for grades fourth through eighth will take place at 6 p.m. at the O'Shaughnessy Center in Whitefish. Auditions for the adult cast (grade 9 and up) continue at 7 p.m. Arrive early to fill out an audition application, fill out a waiver form, and review the script. Enter through the north side of the building near WTC's parking lot and conference room.
"A Christmas Carol: The Musical" is a spectacular adaptation of Charles Dickens' enduring story of hope and redemption. Ebenezer Scrooge is a prosperous curmudgeon who believes that personal wealth is far more valuable than the happiness and comfort of others. With an infuriated "Bah! Humbug!", Scrooge infamously scowls his feelings of Christmas tidings and charitable giving. On Christmas Eve, however, Scrooge is forced to face his selfish ways when he meets three ghosts who lead him through his Past, Present and Future. What happens when he gets a glimpse of how his life will turn out if he doesn't change his miserly ways? Brimming with rousing musical numbers and splendid costumes, "A Christmas Carol: The Musical" celebrates the importance of family, friendship, and love and is the perfect family-friendly event to kick off the holiday season.
No experience or preparation is necessary to audition. Pages from the script and musical sides will be provided. The script is available at public libraries. Kim Krueger is the director of this production.
Rehearsals will begin on Oct. 5. Cast and crew will have Oct. 14 to Oct. 22 off and Nov. 23 and Nov. 26 off for Thanksgiving. The show runs Dec. 7-10 and Dec. 14-17 with matinees on Sundays. For more information, call the Whitefish Theatre Company at 862-5371 or at www.whitefishtheatreco.org
Recent Headlines
---