Glacier handles Capital, 56-0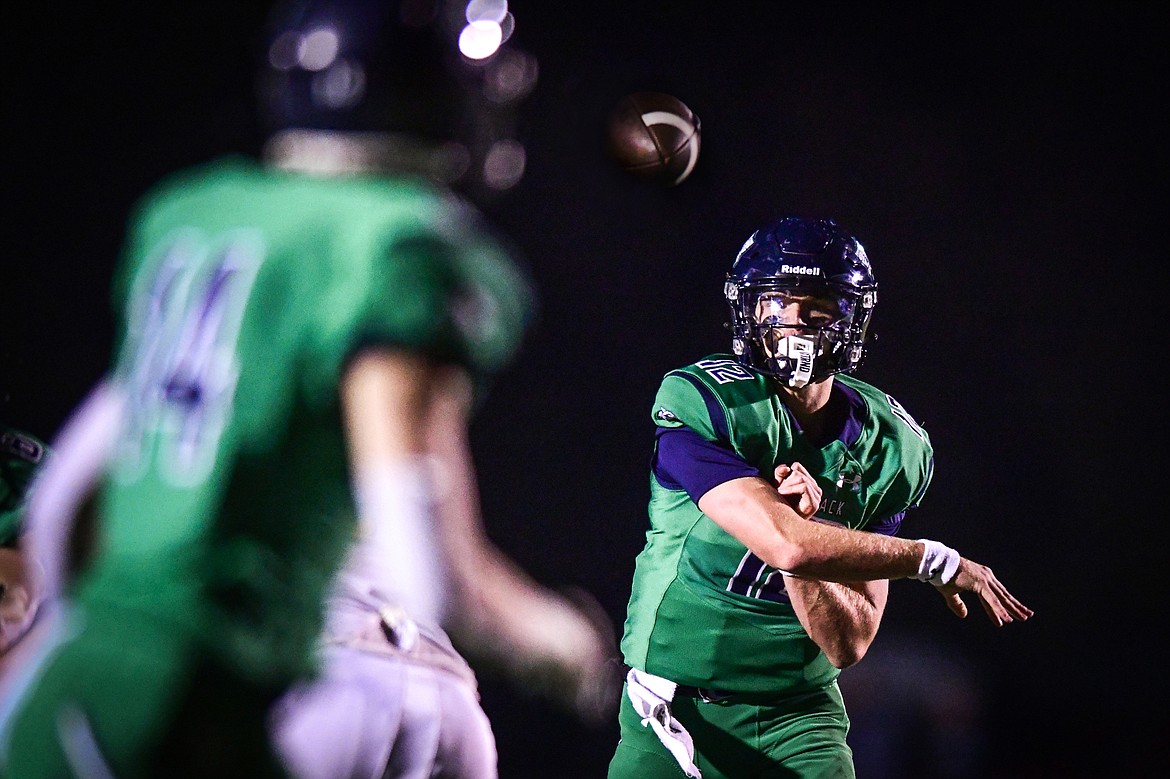 Glacier quarterback Jackson Presley (12) completes a 14-yard touchdown pass to tight end Van Scholten (14) in the second quarter against Helena Capital at Legends Stadium on Friday, Sept. 29. (Casey Kreider/Daily Inter Lake)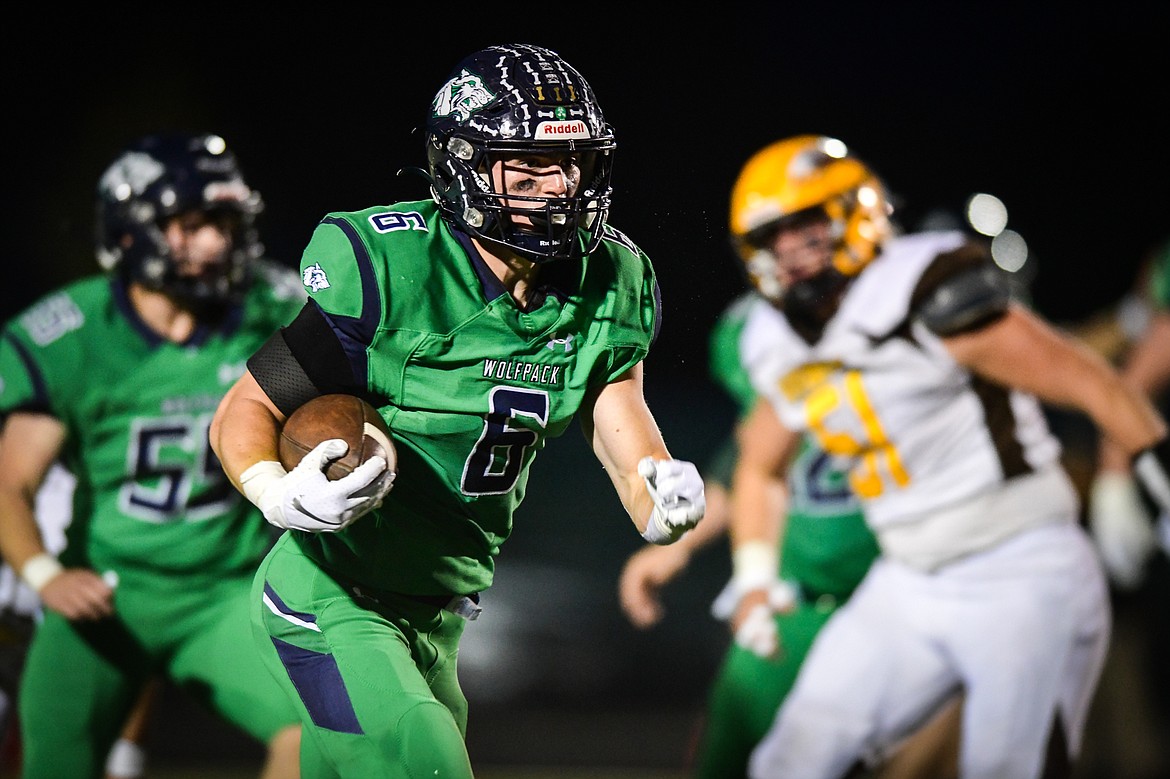 Glacier running back Kash Goicoechea (6) breaks a 34-yard touchdown run in the second quarter against Helena Capital at Legends Stadium on Friday, Sept. 29. (Casey Kreider/Daily Inter Lake)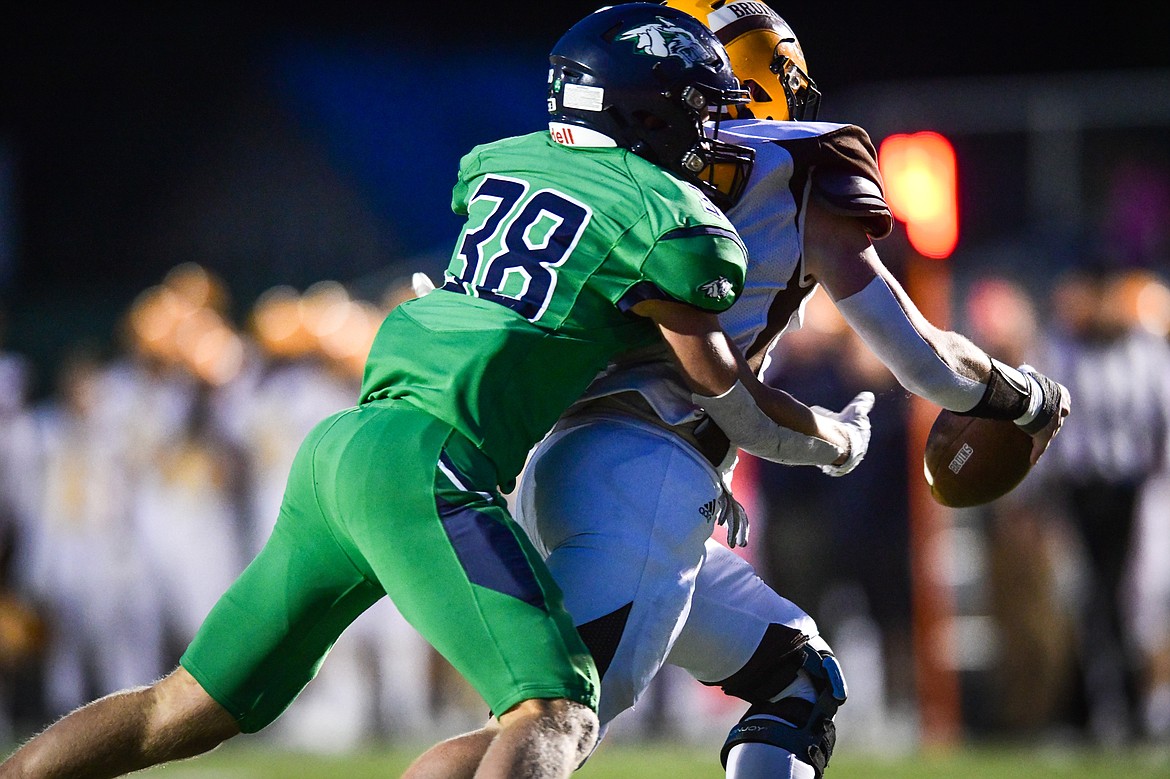 Glacier's Carson Baker (38) tackles Helena Capital punter John McDonald (57) after a bad snap in the second quarter at Legends Stadium on Friday, Sept. 29. (Casey Kreider/Daily Inter Lake)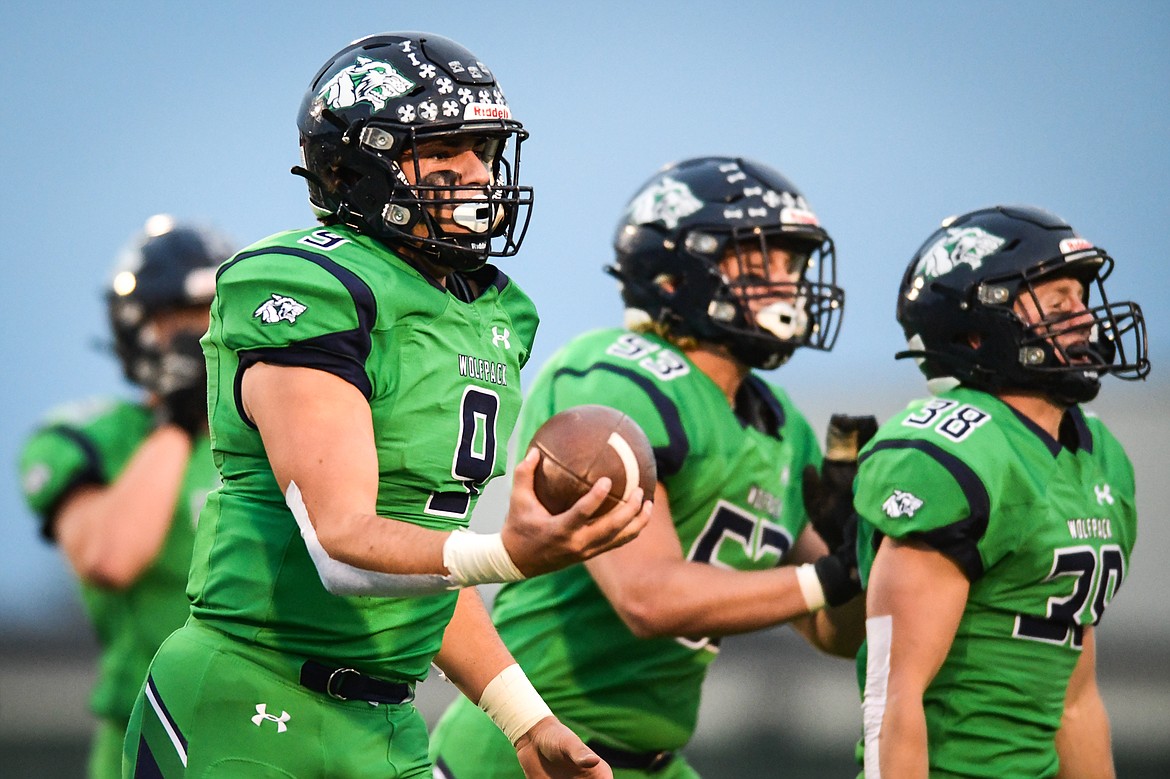 Glacier defensive lineman Isaac Keim (9) celebrates after recovering a fumble in the first quarter against Helena Capital at Legends Stadium on Friday, Sept. 29. (Casey Kreider/Daily Inter Lake)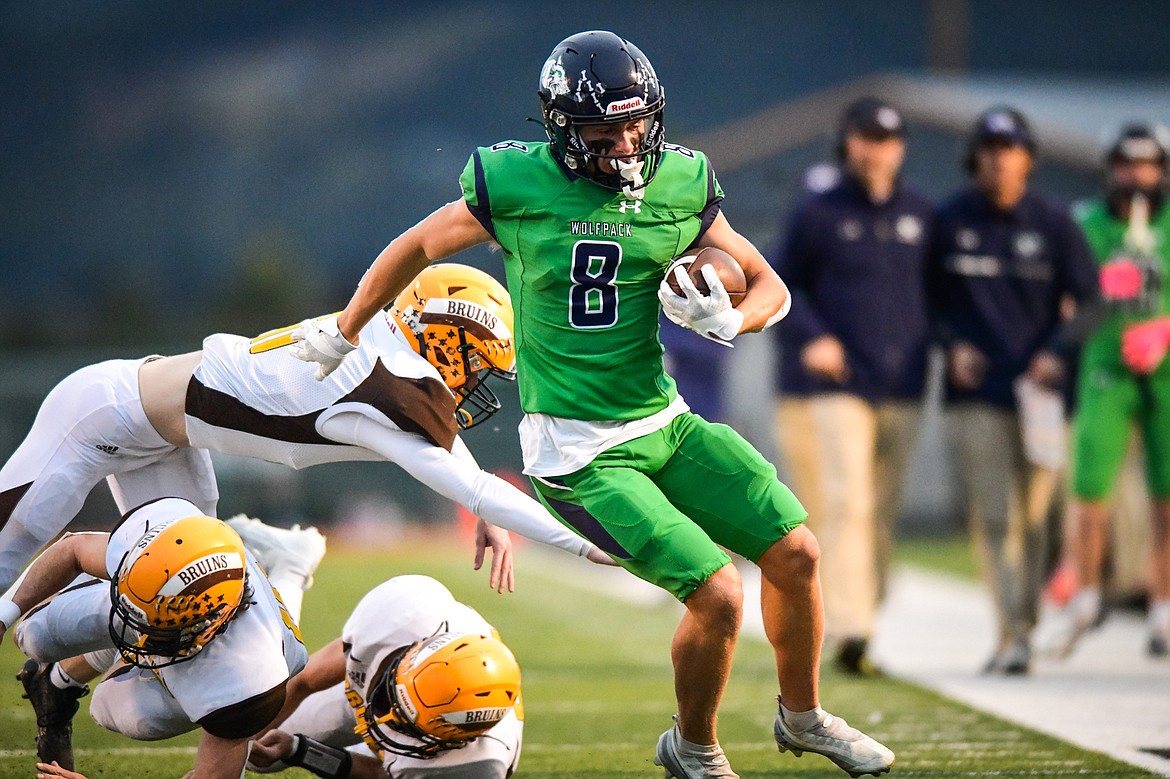 Glacier wide receiver Evan Barnes (8) picks up yardage on a run in the first quarter against Helena Capital at Legends Stadium on Friday, Sept. 29. (Casey Kreider/Daily Inter Lake)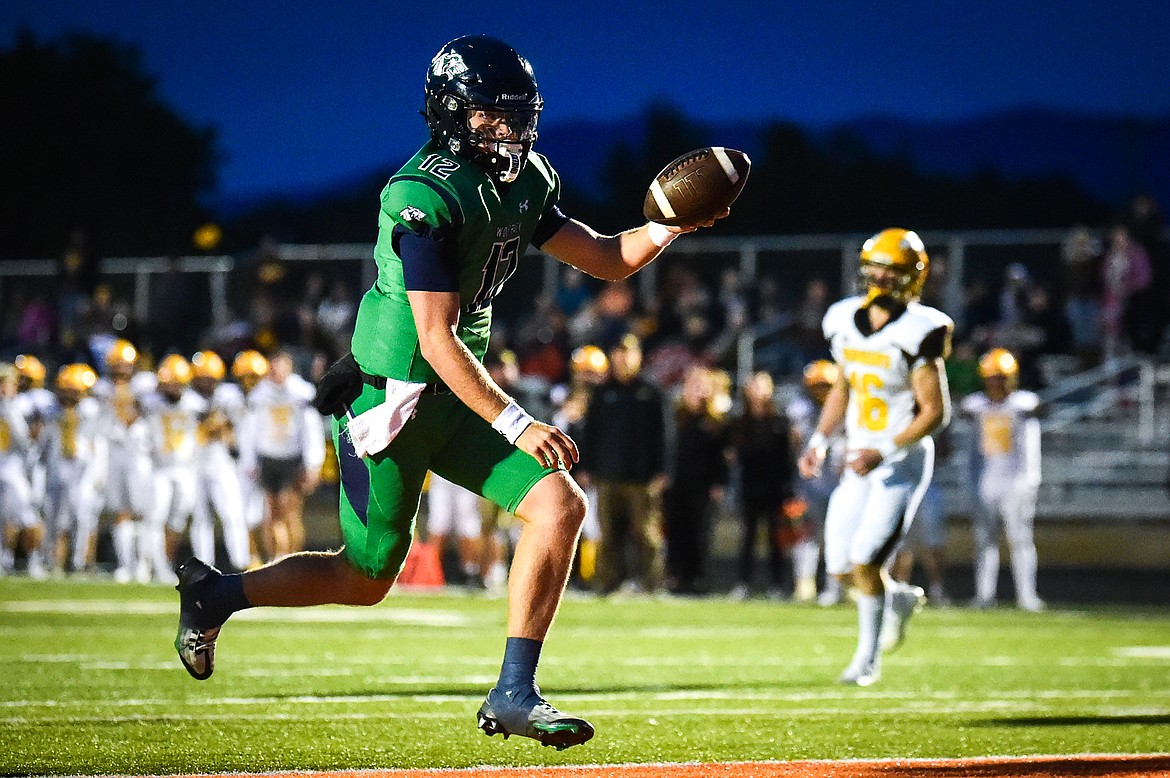 Glacier quarterback Jackson Presley (12) runs for a touchdown in the second quarter against Helena Capital at Legends Stadium on Friday, Sept. 29. (Casey Kreider/Daily Inter Lake)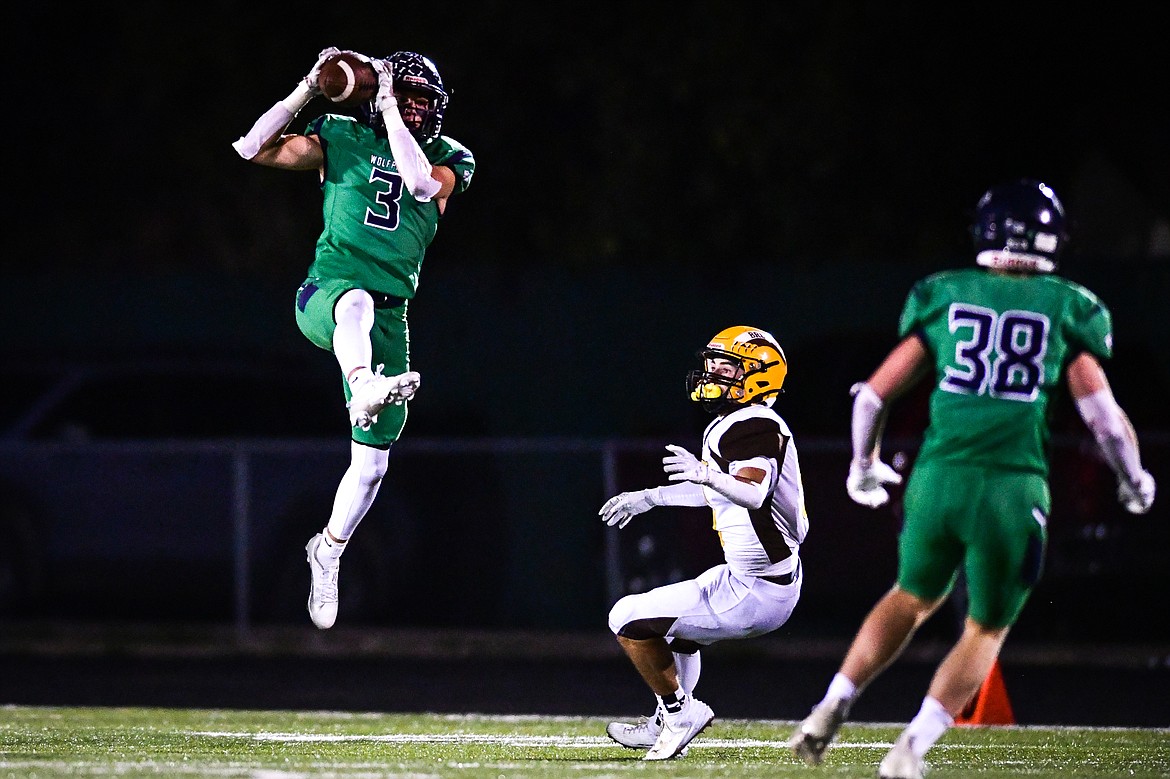 Glacier defensive back Alex Hausmann (3) intercepts a pass in the second quarter against Helena Capital at Legends Stadium on Friday, Sept. 29. (Casey Kreider/Daily Inter Lake)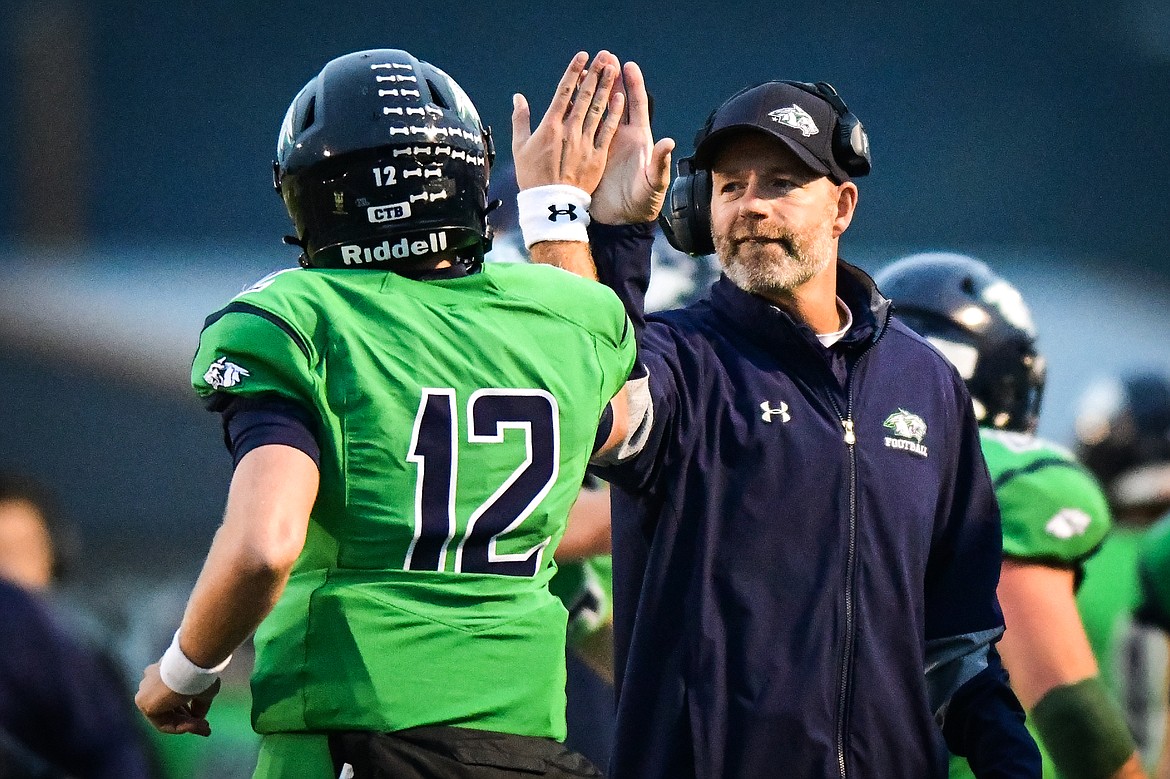 Glacier head coach Grady Bennett congratulates quarterback Jackson Presley (12) after Presley's touchdown pass to tight end Isaac Keim in the first quarter against Helena Capital at Legends Stadium on Friday, Sept. 29. (Casey Kreider/Daily Inter Lake)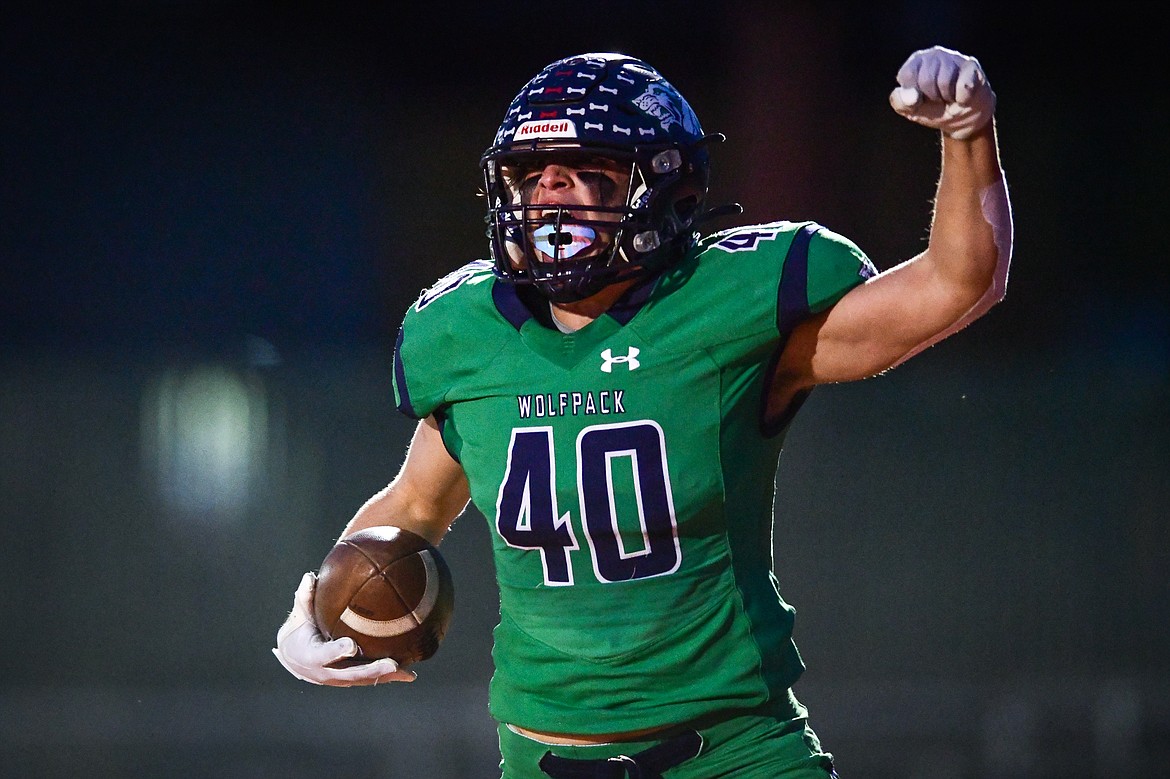 Glacier's Jaden Dannic (40) celebrates after recovering a fumble on a bad punt snap in the second quarter against Helena Capital at Legends Stadium on Friday, Sept. 29. (Casey Kreider/Daily Inter Lake)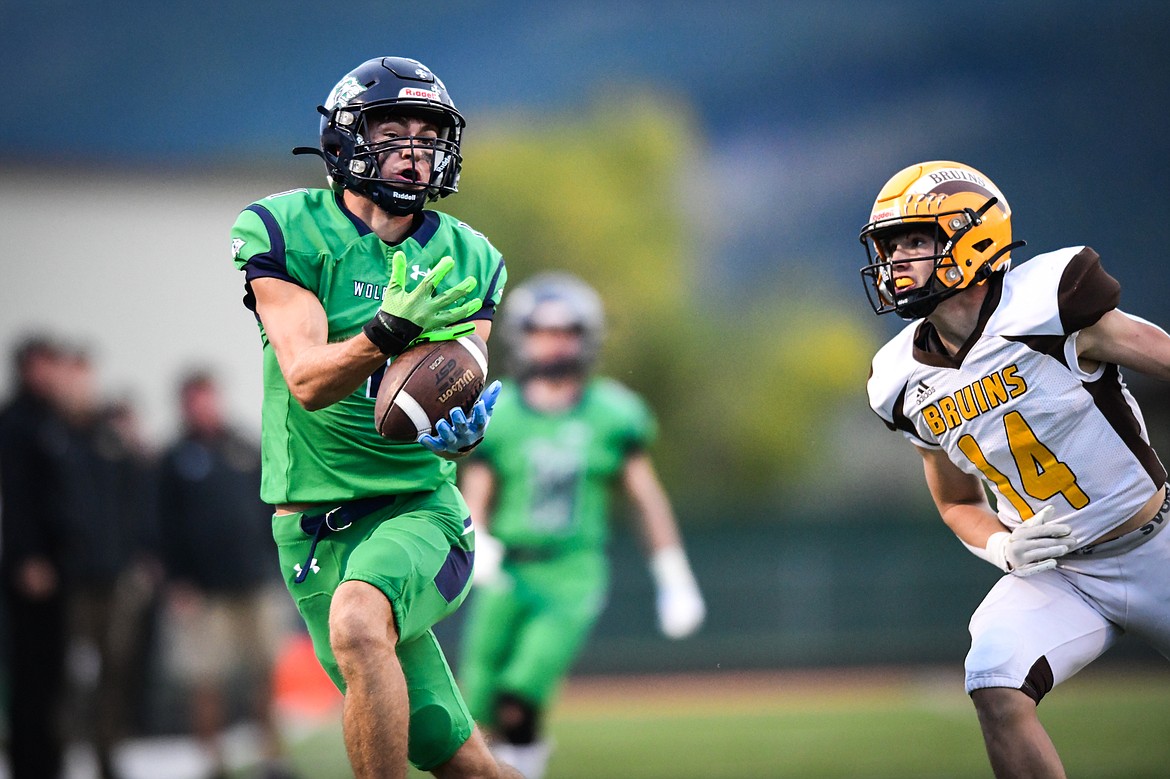 Glacier wide receiver Cohen Kastelitz (1) pulls in a long reception along the sideline in the first quarter against Helena Capital at Legends Stadium on Friday, Sept. 29. (Casey Kreider/Daily Inter Lake)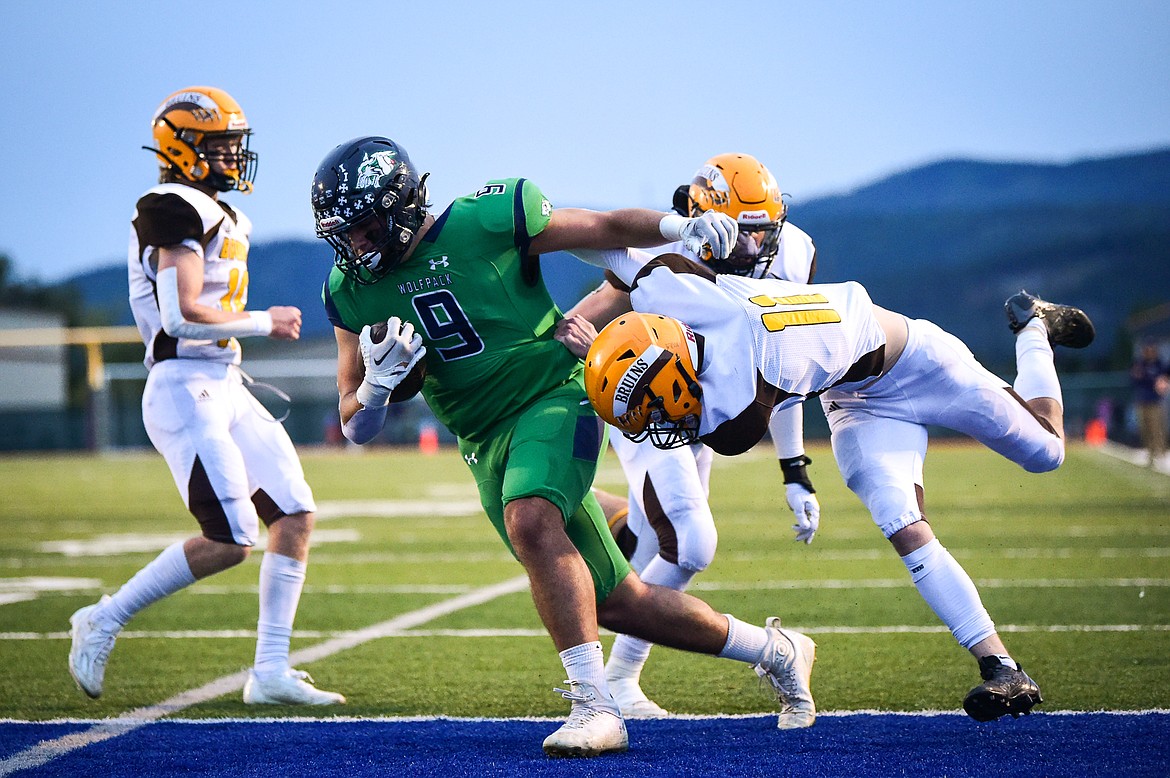 Glacier tight end Isaac Keim (9) scores a touchdown on a 9-yard reception in the first quarter against Helena Capital at Legends Stadium on Friday, Sept. 29. (Casey Kreider/Daily Inter Lake)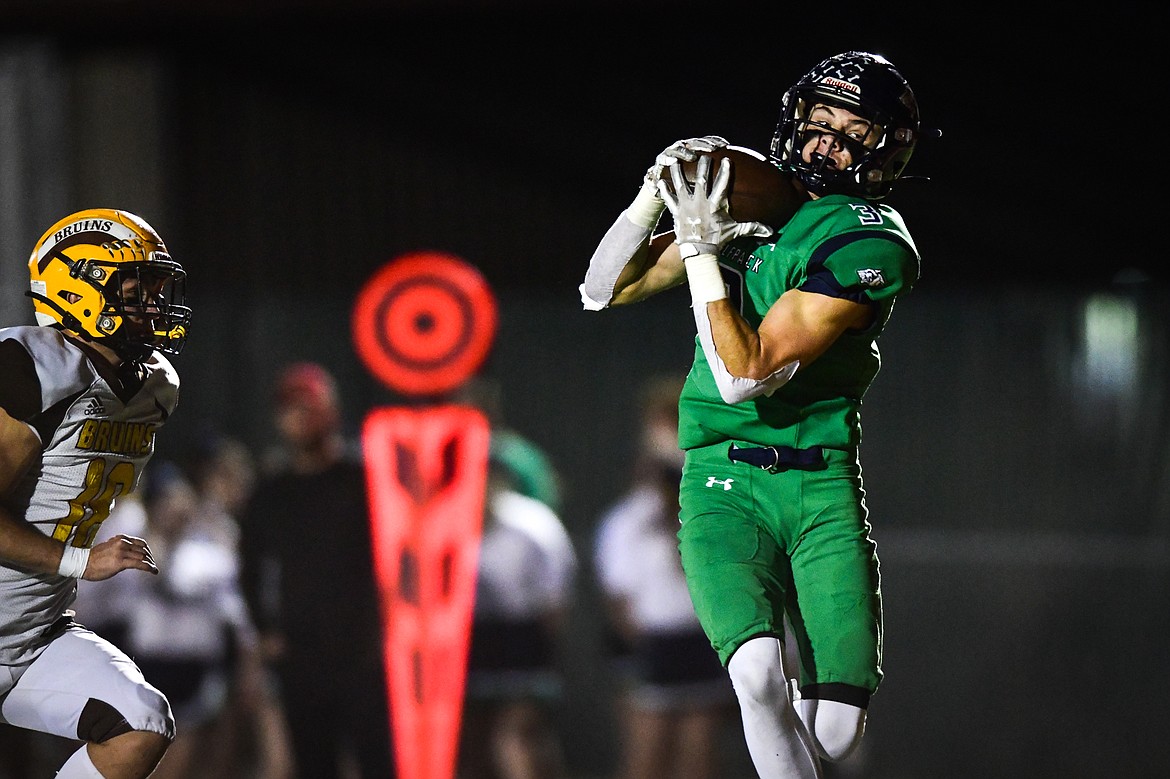 Glacier wide receiver Alex Hausmann (3) pulls in a 24-yard touchdown reception in the second quarter against Helena Capital at Legends Stadium on Friday, Sept. 29. (Casey Kreider/Daily Inter Lake)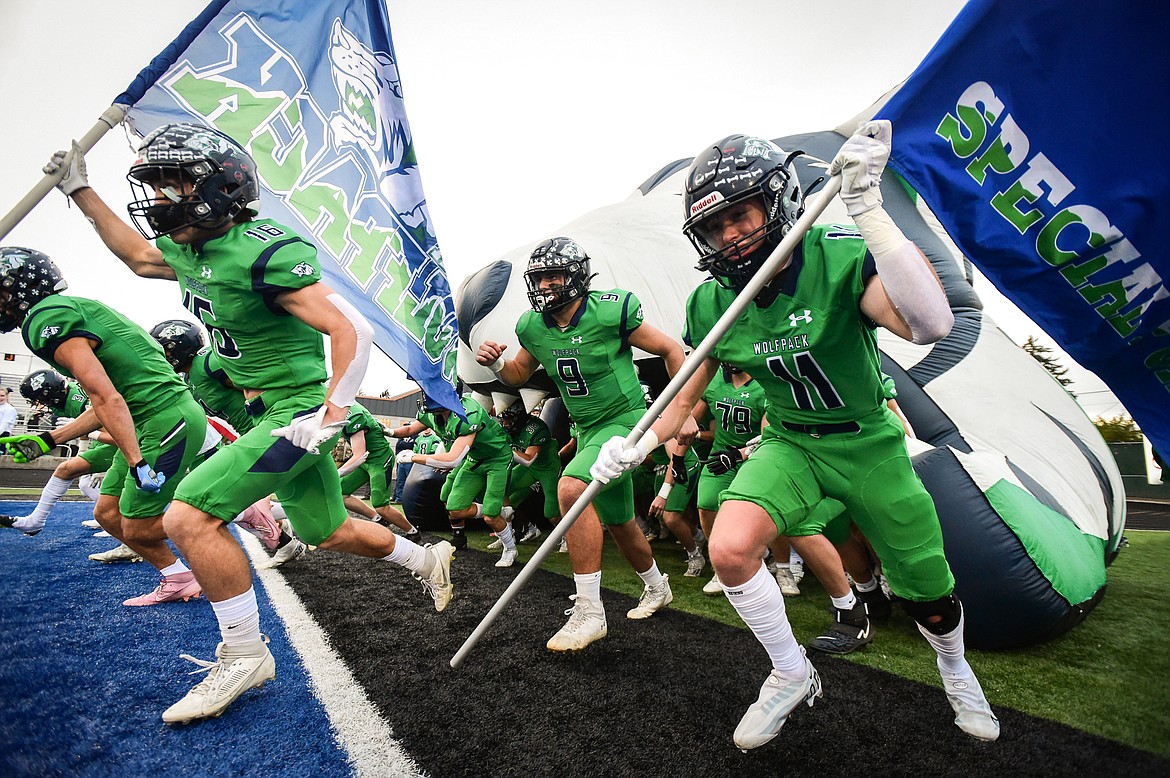 The Glacier Wolfpack take the field before their game with the Helena Capital Bruins at Legends Stadium on Friday, Sept. 29. (Casey Kreider/Daily Inter Lake)
Previous
Next
Glacier coach Grady Bennett feels the 2023 Wolfpack are a little more together — and Friday, together, they put a complete thumping on the defending state champions.
Jackson Presley threw four touchdown passes and ran for another score in a first-half blitz that put the Wolfpack up 56-0 on Helena Capital at Legends Stadium.
That was the final: Glacier improved to 5-1 overall and 3-1 in Western AA football games.
"That's about as full and complete of a team effort as I've been a part of," Bennett said. "All phases. We turned them over on special teams, made some great plays there. Defense was stifling — four interceptions, three fumbles. Offense was on fire, and everybody played well."
A year ago, on the way to an unbeaten campaign, the Bruins rallied from a 27–14 halftime deficit to knock off the Glacier Wolfpack 35-27. The Wolfpack remembered.
"Totally," said tight end Isaac Keim, who had a fumble recovery as well as a 9-yard scoring reception to put Glacier up 14-0 in the first quarter. "That's all we heard about this week: 'You guys lost in the fourth quarter.' So we were motivated."
Yet this was surprising. Capital (3-3, 2-2 in league) rolled up 476 yards of offense last week in a 35-0 win over crosstown rival Helena; Glacier beat the Bengals 35-7 the week before that.
Friday the Bruins had minus-14 yards at halftime, thanks in part to a jail-break punt snap that lost 33 before Glacier's Jaden Dannic recovered it at the Bruin 2.
Presley's TD run came on the next play, and made it 28-0 at 8:18 of the second quarter.
At that point the outcome seemed certain; then it got a lot worse.
Consecutive three-and-outs — Capital didn't garner a first down before intermission — gave Glacier short fields and set up a 34-yard scoring burst by Kash Goicoechea (35-0) and Kobe Dorcheus' second scoring run of the game, covering 11 yards (42-0 at the 2:02 mark).
Then the Wolfpack tacked on two more touchdowns in the final 31 seconds. Van Scholten hauled in a 14-yard touchdown pass; after Capital didn't cover the ensuing squibbed kickoff and the Pack's Carson Baker got it, Presley hit Alex Hausmann up the seam for 26 yards with 16 seconds left on the clock.
Hausmann had a game: Two receptions from Presley, and two from Capital quarterback Merek Mihelish. In fact after Presley underthrew a go route and was intercepted early in the second quarter, Hausmann picked off Mihelish two plays later.
That set up a 6-yard scoring pass to Bridger Smith.
Hausmann's second interception came ahead of Scholten's TD.
"Last year we lost some tough games and I didn't think we had each other's backs," Bennett said. "If the offense would get a turnover, the defense would allow a score; if the defense got a turnover, the offense wouldn't capitalize. We worked on that sudden change. In situations like that the guys are really doing a good job."
"He came out and did his thing and helped us get the victory," Smith said of Kauffman. "We came out and did our thing. This was a great opportunity to come out and showcase the team we really are."
The running clock was in place all second half, and Capital managed seven first downs — and three turnovers. Jack Robinson picked off a pass, Mark Ahner forced and recovered a fumble and Austin Gragg made a pick for the Pack.
Henry Sellards had five tackles on defense; fellow lineman Ben Winters had two early tackles for loss, including a sack.
"Football games are won up front, we all know that," Bennett said. "I think these guys were getting tired of how good everybody else's fronts are. They kept hearing, 'These guys' front, those guys' front, and I could see it all week long, they started taking it a little personal. We're pretty good.
"Henry Sellards, Isaac Keim, Aiden Krause, TJ Gannon, Rylan Heil. I could name them all, on both sides. They were outstanding today."
Up next is the Crosstown game between Glacier and Flathead, at 7 p.m. Thursday at Legends.
Capital 0 0 0 0 - 0
Glacier 14 42 0 0 - 42
G — Kobe Dorcheus 5 run (Rhett Measure kick), 9:34-1Q
G — Isaac Keim 9 pass from Jackson Presley (Measure kick), 4:59-1Q
G — Bridger Smith 6 pass from Presley (Measure kick), 9:56-2Q
G — Presley 2 run (Measure kick), 8:18-2Q
G — Kash Goicoechea 34 run (Measure kick), 4:49-2Q
G — Dorcheus 11 run (Measure kick), 2:02-2Q
G — Van Scholten 14 pass from Presley (Measure kick), :31-2Q
G — Alex Hausmann 26 pass from Presley (Measure kick), :16-2Q
Individual Statistics
RUSHING: Capital (26-25) — Tuff Adams 5-23, Merek Mihelish 12-19, Lance Baumgard 5-10, Cole Graham 2-minus 2, Andy Williams 1-minus 3, TEAM 1-minus 22. Glacier (28-152) — Goicoechea 6-60, Dorcheus 7-55, Cooper Pelc 4-20, Smith 1-9, Kaleb Shine 1-4, Evan Barnes 1-4, Jack Robinson 1-3, Teagan Dixon 1-1, Presley 4-minus 1, Chase Chaffin 2-minus 3.
PASSING: Capital — Mihelish 9-19-4 for 77 yards. Glacier — Presley 17-25-1 for 235 yards; Measure 0-1–0 for 0 yards; Robinson 0-1-0 for 0 yards.
RECEIVING: Capital — Dylan Almquist 3-28, Baumgard 2-23, Daniel Larson 2-5, Conor Toiveonen 1-11, Ty Moncur 1-10. Glacier — Smith 4-43, Cohen Kastelitz 3-54, Barnes 2-46, Hausmann 2-41, Kole Johnson 2-21, Scholten 1-14, Keim 1-9, Measure 1-8, Goicoechea 1-minus 1.
Western AA Standings
Conf. Overall
Butte 4-0 5-1
Glacier 3-1 5-1
Sentinel 3-1 4-2
Capital 2-2 3-3
Big Sky 2-2 3-3
Helena 2-2 3-3
Flathead 0-4 1-5
Hellgate 0-4 0-6
Friday's games
Butte 47, Missoula Sentinel 35
Glacier 56, Helena Capital 0
Helena 47, Flathead 14
Missoula Big Sky 41, Missoula Hellgate 0
Recent Headlines
---