ImagineIF Libraries director resigns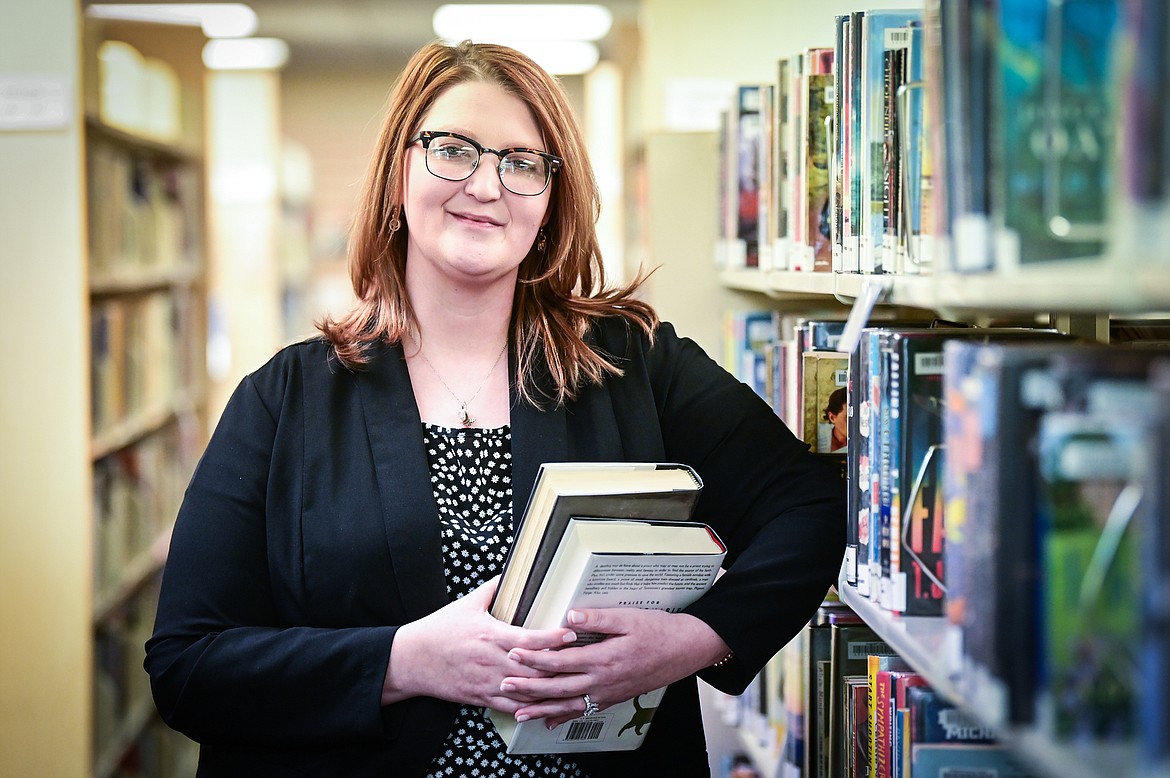 Ashley Cummins, director of ImagineIF Libraries on Thursday, June 23. (Casey Kreider/Daily Inter Lake)
by
TAYLOR INMAN
Daily Inter Lake
|
September 29, 2023 9:05 AM
Ashley Cummins is leaving her position as ImagineIF Library Director, citing family issues.
Her resignation is effective Oct. 27, according to a release from the county library system. In a letter, Cummins said "family issues require her immediate attention and presence elsewhere." She added that her departure brought with it mixed emotions.
During an executive session at Thursday's ImagineIF Library Board of Trustees meeting, trustees voted to appoint Teri Dugan, office administrator for ImagineIF Libraries, as acting library system director upon Cummins' departure.
Cummins took over as director in March 2022. She previously served as a library director at the Russellville Public Library in Russellville, Alabama. Her selection proved immediately controversial — her lack of a master's degree resulted in the library system losing state accreditation and $30,000 in annual funding.
Trustees had petitioned the state in June to change its education requirements for directors to reverse that decision. In a letter to state library commissioners, then board Chair Doug Adams said that trustees would have had to settle for a lesser candidate if they passed on Cummins.
Cummins guided library employees through a contentious stretch for ImagineIF Libraries. Her time as director saw several book challenges and the creation of a parent resources section — meant to house books in the children's section with complicated topics.
She also petitioned for the hiring of a security guard due to a high number of incident reports at the library, some of which included drug use, threats and violent outbursts from patrons. Since hiring security, those types of incidents have decreased, though a spike this summer caused trustees to vote to extend the guard's hours.
Her hiring at ImagineIF came after the resignations of Connie Behe in the summer of 2021 and interim Director Martha Furman that December. Both cited tensions and disagreements with the library's Board of Trustees. After a few months without leadership, one of Cummins first tasks was a "staff shuffle" that moved library employees to positions they preferred and sought to find efficiencies throughout the system.
In her resignation letter, Cummins thanked trustees, the ImagineIF Foundation, Friends of ImagineIF Libraries, Flathead County commissioners, the library system's county management team, her fellow staff members and library patrons.
The ImagineIF Board of Trustees accepted Cummins' resignation during a closed session at its Sept. 28 board meeting.
In a letter, trustees thanked her for her dedication and hard work. Trustees also lauded her addition of staff days, completion of the Bigfork branch transfer agreement, organizational realignment to improve service delivery and cost savings, among other decisions.
Reporter Taylor Inman can be reached at 406-758-4433 or by emailing tinman@dailyinterlake.com.
Recent Headlines
---