Wolfpack sweeps Flathead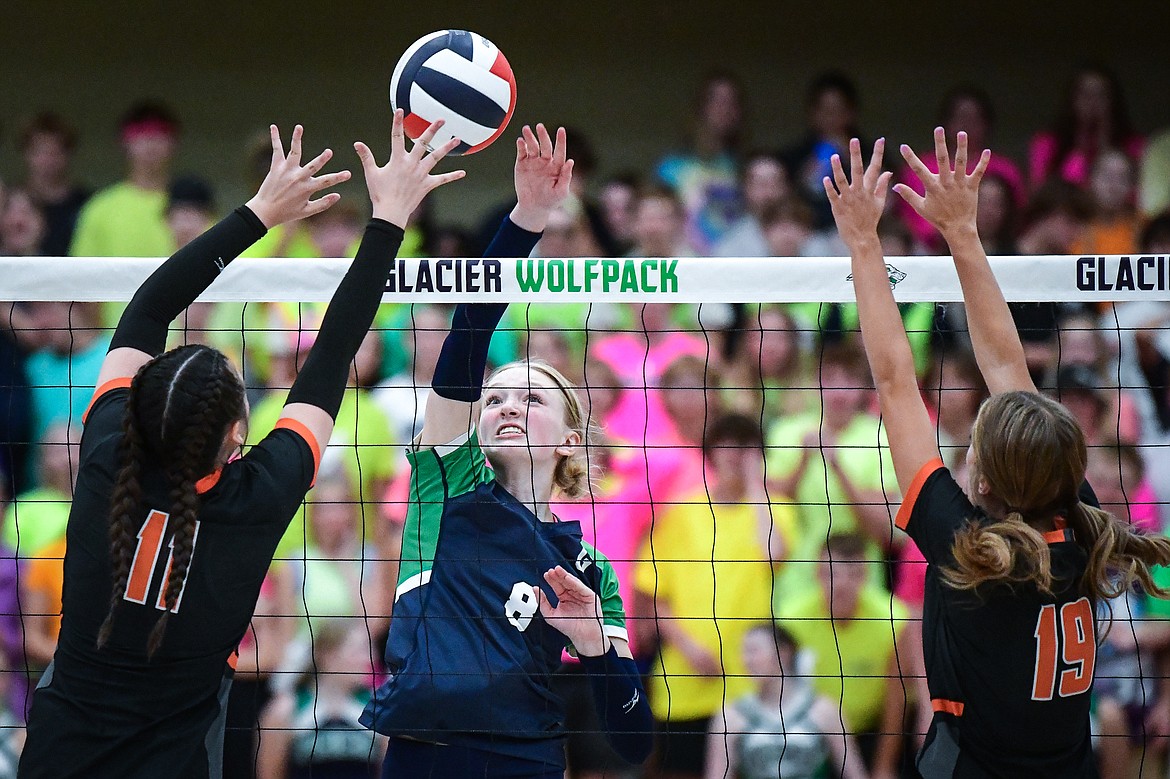 Glacier's Leila Major (8) goes to the net for a kill against Flathead at Glacier High School on Thursday, Sept. 28. (Casey Kreider/Daily Inter Lake)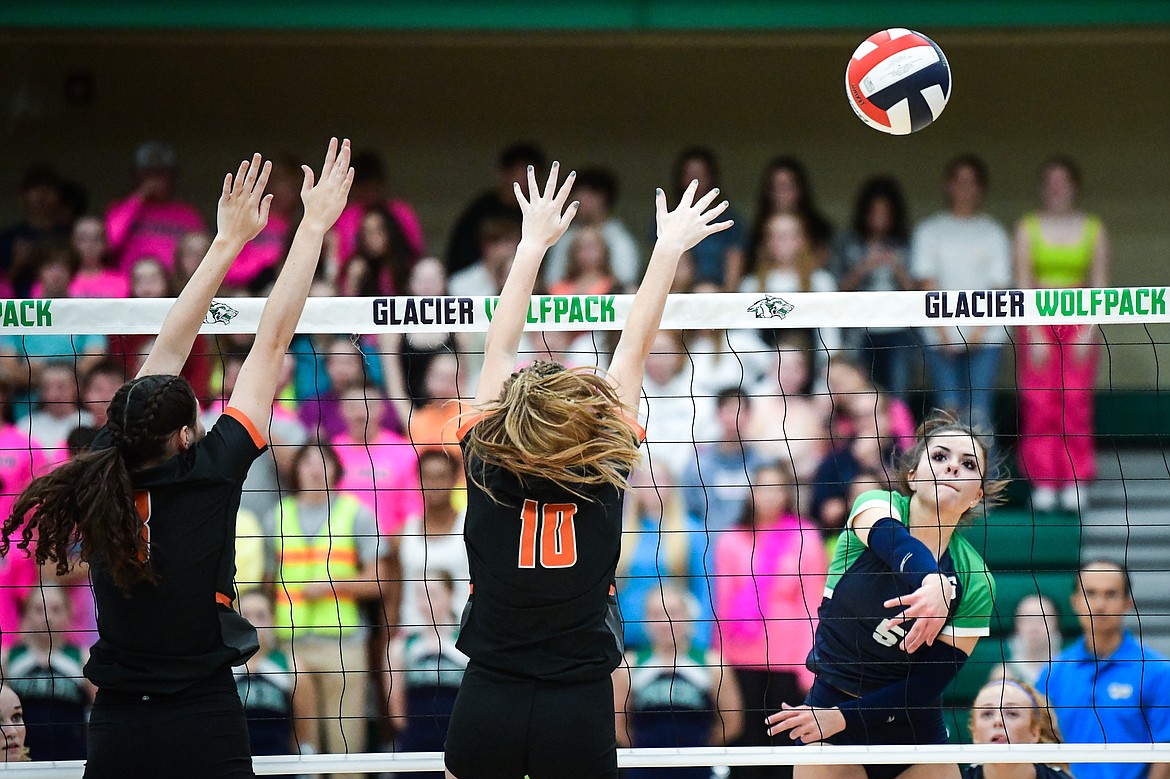 Glacier's Natalie Herne (5) goes to the net for a kill against Flathead at Glacier High School on Thursday, Sept. 28. (Casey Kreider/Daily Inter Lake)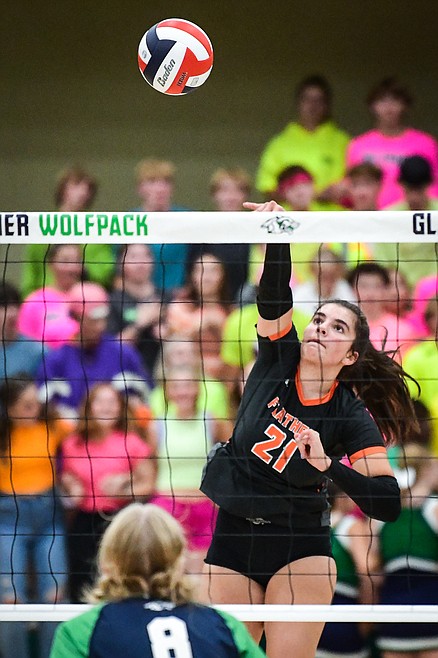 Flathead's Sienna Sterck (21) jumps for a kill against Glacier at Glacier High School on Thursday, Sept. 28. (Casey Kreider/Daily Inter Lake)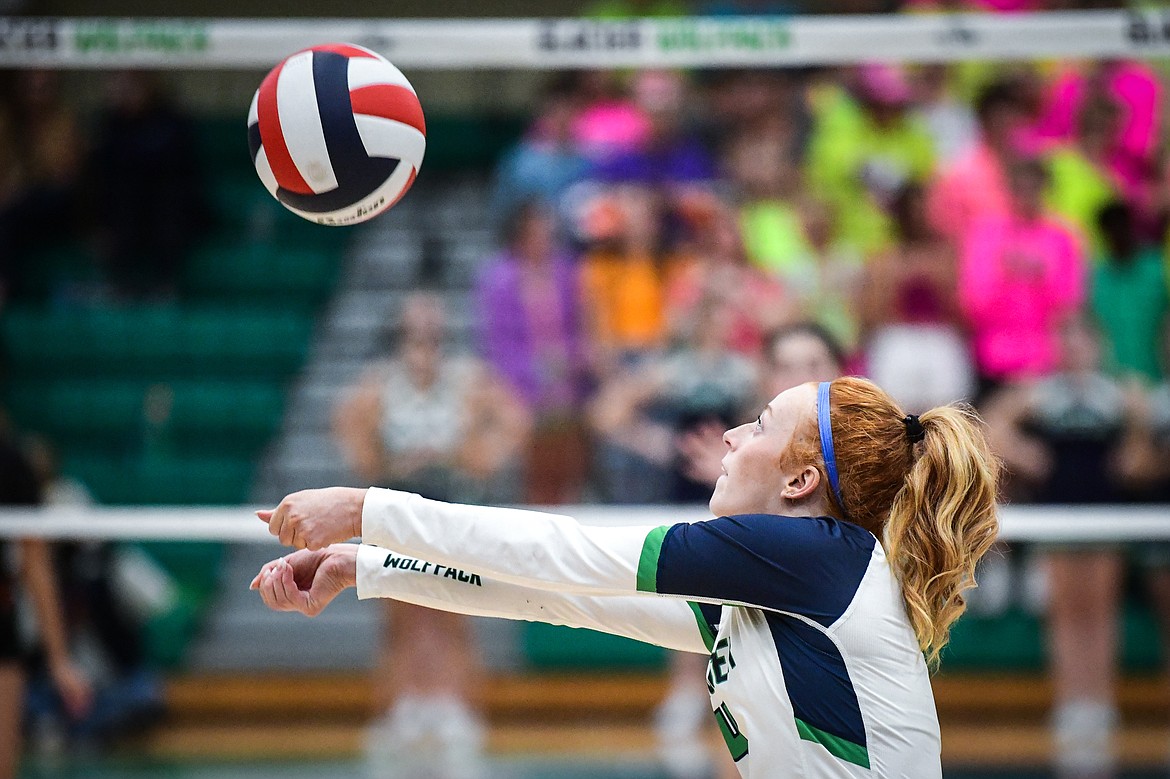 Glacier's Kenedee Moore (4) passes to a teammate against Flathead at Glacier High School on Thursday, Sept. 28. (Casey Kreider/Daily Inter Lake)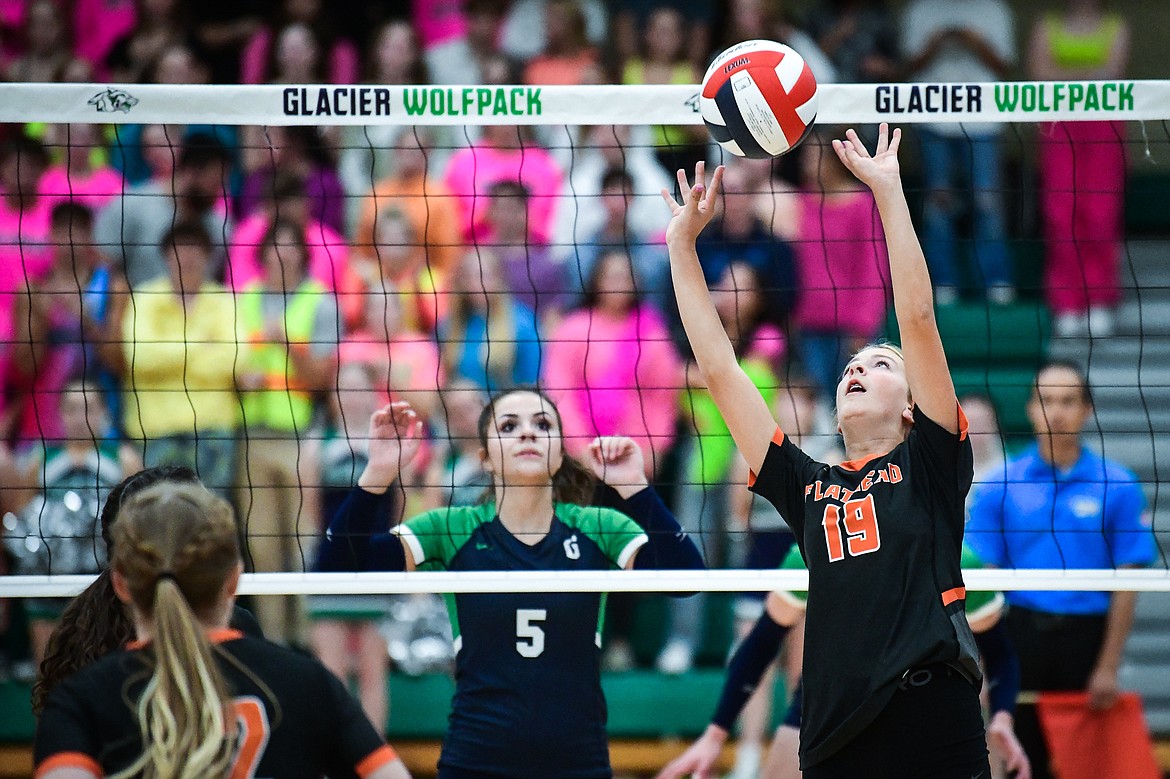 Flathead's Anna Bain (19) sets at the net against Glacier at Glacier High School on Thursday, Sept. 28. (Casey Kreider/Daily Inter Lake)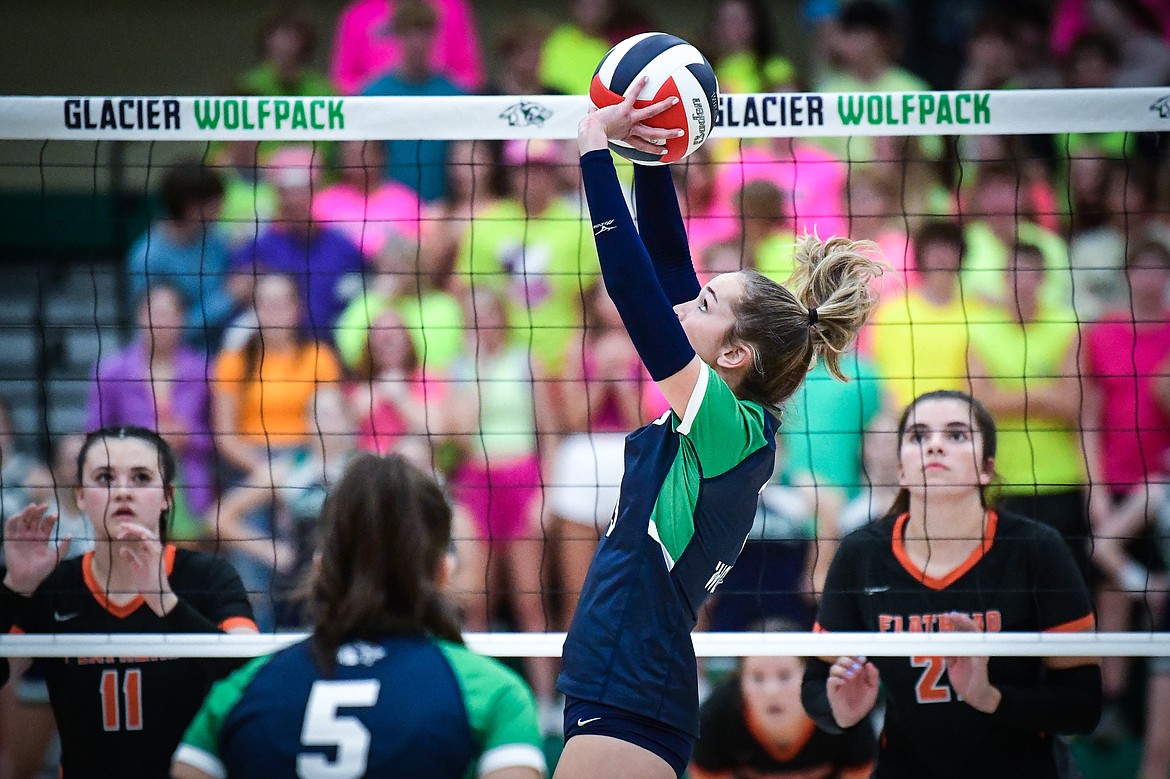 Glacier's Haven Speer (3) sets at the net against Flathead at Glacier High School on Thursday, Sept. 28. (Casey Kreider/Daily Inter Lake)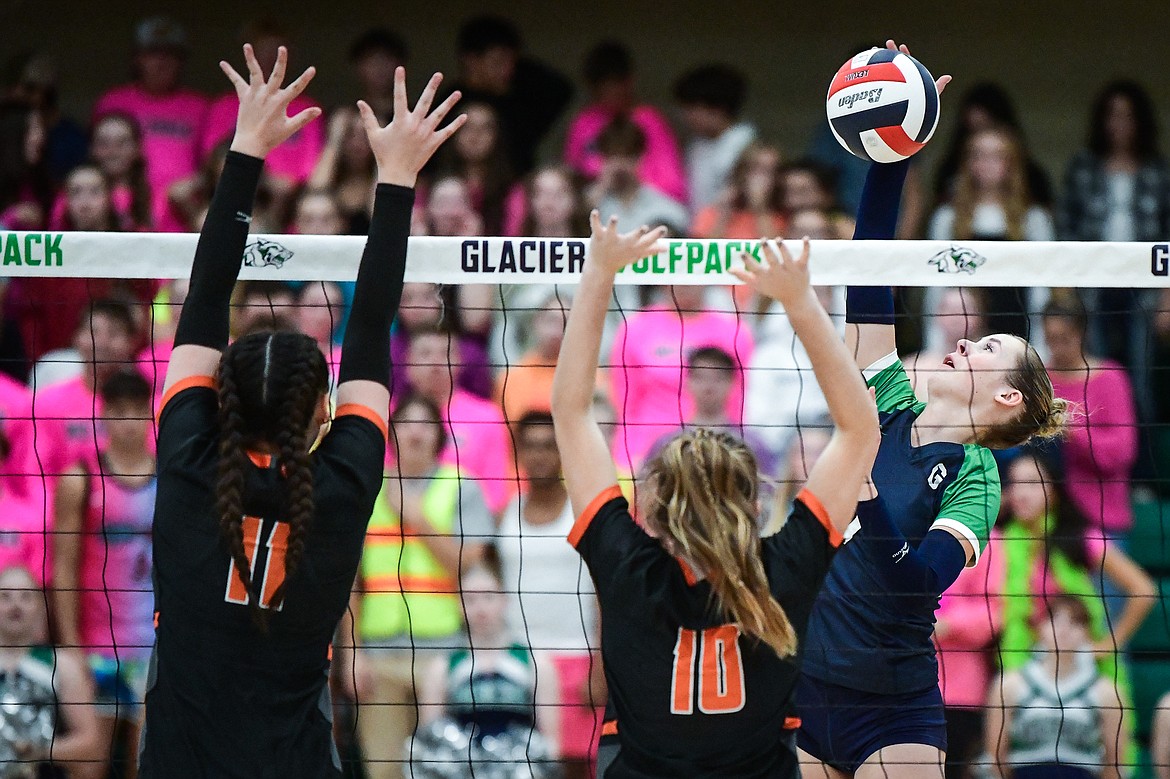 Glacier's Sarah Downs (7) goes to the net for a kill against Flathead at Glacier High School on Thursday, Sept. 28. (Casey Kreider/Daily Inter Lake)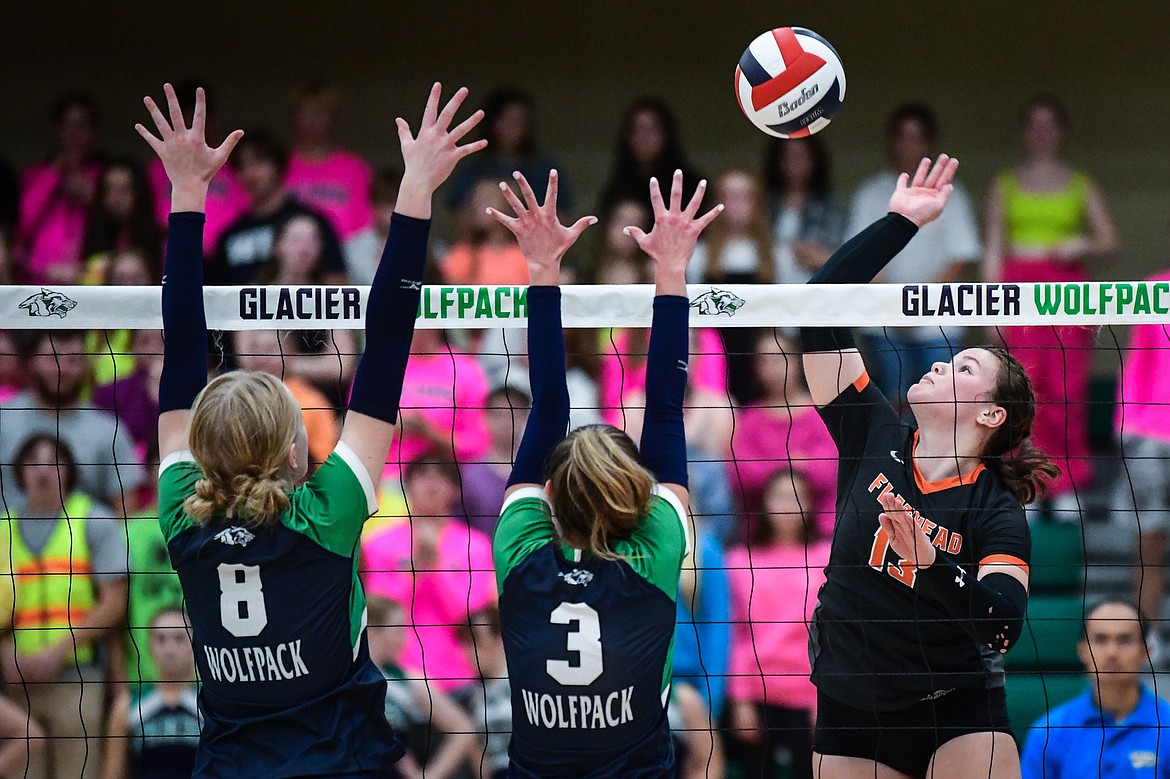 Flathead's Olive Lyngholm (13) goes to the net for a kill against Glacier at Glacier High School on Thursday, Sept. 28. (Casey Kreider/Daily Inter Lake)
Previous
Next
by
KATIE BROWN
Daily Inter Lake
|
September 29, 2023 12:00 AM
There were a few jitters at the beginning on both sides, including an errant ball that landed in the lap of a crowd member, but at the end, Glacier came away with a three-set sweep over the Flathead Bravettes in this iteration of crosstown volleyball at the Glacier High gym on Thursday.
The Pack worked efficiently, downing Flathead 25-15, 25-10, 25-14 and preserving their unbeaten Western AA conference record.
"I really thought all of the girls did a great job of showing up today and being mentally focused and prepared and ready to go," Glacier coach Christy Harkins said. "I thought Leila Major, she did a great job for us. She got that last kill and it was a big kill. Her mindset for the whole game was, 'I'm gonna go big today.' So I really appreciate what she did."
Major led Glacier with 10 kills, including one that put the Pack up 14-7 in the second set and another that made it 13-5 in the third. And then she put the exclamation point on Glacier's 10th win of the season with a kill for the match point.
Haven Speer racked up 25 assists and Kenedee Moore added 21 digs for Glacier.
"Haven Speer, she does such a great job for us," Harkins said. "She does an awesome job at the net… Just runs the offense really well."
Glacier is 10-3 overall and 7-0 in Western AA. Flathead is 5-8 and 3-4.
The Bravettes got six kills from Sienna Sterck and 17 digs from Olive Lyngholm. Lyngholm and libero Kendall Kratofil helped Flathead get as close as 8-5 and 11-7 in the second set but the Wolfpack surged to close it out.
"They're very focused," Harkins said. "They have strong, high goals and they're willing to work hard to reach them."
Next for both Flathead and Glacier is the second Helena Crossover Tournament on Saturday in Helena.
Flathead def. Glacier 25-15, 25-10, 25-15
Kills — Flathead 19 (Sienna Sterck 6); Glacier 35 (Leila Major 10). Assists — Flathead 19 (Anna Bain 19); Glacier (Haven Speer 25). Digs — Flathead 49 (Olive Lyngholm 17); Glacier 51 (Kenedee Moore 21). Blocks — Flathead 3 (Zia Georgeff 1.5); Glacier 5 (Jaidyn Pevey 3). Aces — Flathead 3 (Emma DeLong 2); Glacier 7 (Kaylie Field 2, Speer 2).
Recent Headlines
---