Letters to the Editor
Want to read a letter to the editor of Daily Inter Lake? See below to view their letters.
Updated 7 hours, 50 minutes ago
There is a reason Montana is the Last Best Place in the country.
Updated 2 weeks, 3 days ago
This letter is in response to the State Republican Party's absurd proclamation that Marc Racicot is no longer considered a republican. I have known Marc since the mid-1980s.
Updated 2 weeks, 3 days ago
Growing up, team sports was a way of life for our family and one that garnered many valuable lifetime lessons.
Updated 2 weeks, 5 days ago
The issues surrounding short term rentals are not going away. To the contrary, the problems are increasing as STR growth explodes across the country.
Updated 3 weeks ago
The Leadership of the Montana House of Representatives is proud of the accomplishments the Republican led Legislature has achieved on behalf of the people of Montana in the first half of the legislative session.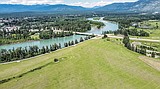 Updated 3 weeks ago
In conversations about government, it's almost cliche to say, "The government closest to the people works best."
Updated 3 weeks ago
On Aug. 8, 2022, NorthWestern Energy filed to increase retail electricity rates by 25%.
Updated 3 weeks, 3 days ago
In a Montana Viewpoint article a month ago called "Marketing Anger" I wrote about the prevalence of anger as an economic force as well as a political force, saying, "There is also the economic aspect of anger suc...
Updated 3 weeks, 5 days ago
With all the misinformation being spread about House Bill 372, I thought I'd take a minute to clear the air and break it down for everyone to digest.
---