Landmark Kalispell bike shop Wheaton's celebrates centennial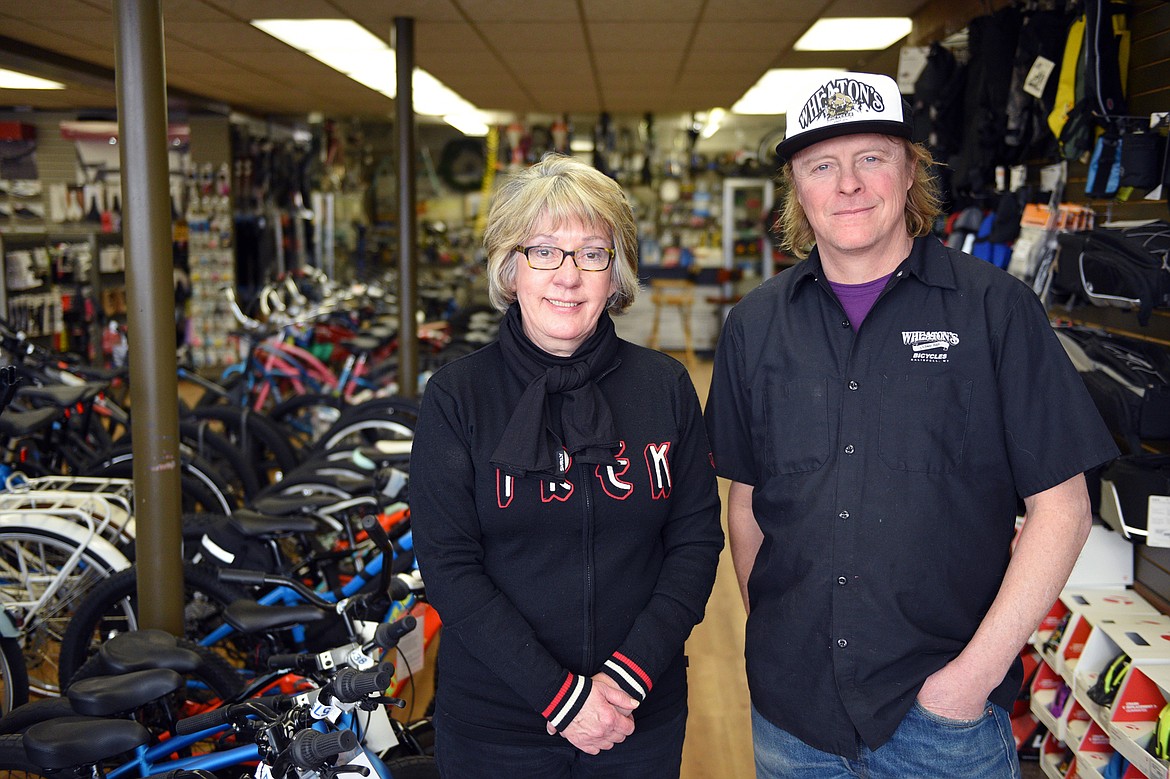 Margaret Lekander and Hans Axelsen at Wheaton's Cycle in Kalispell on March 8. (Casey Kreider photos/Daily Inter Lake)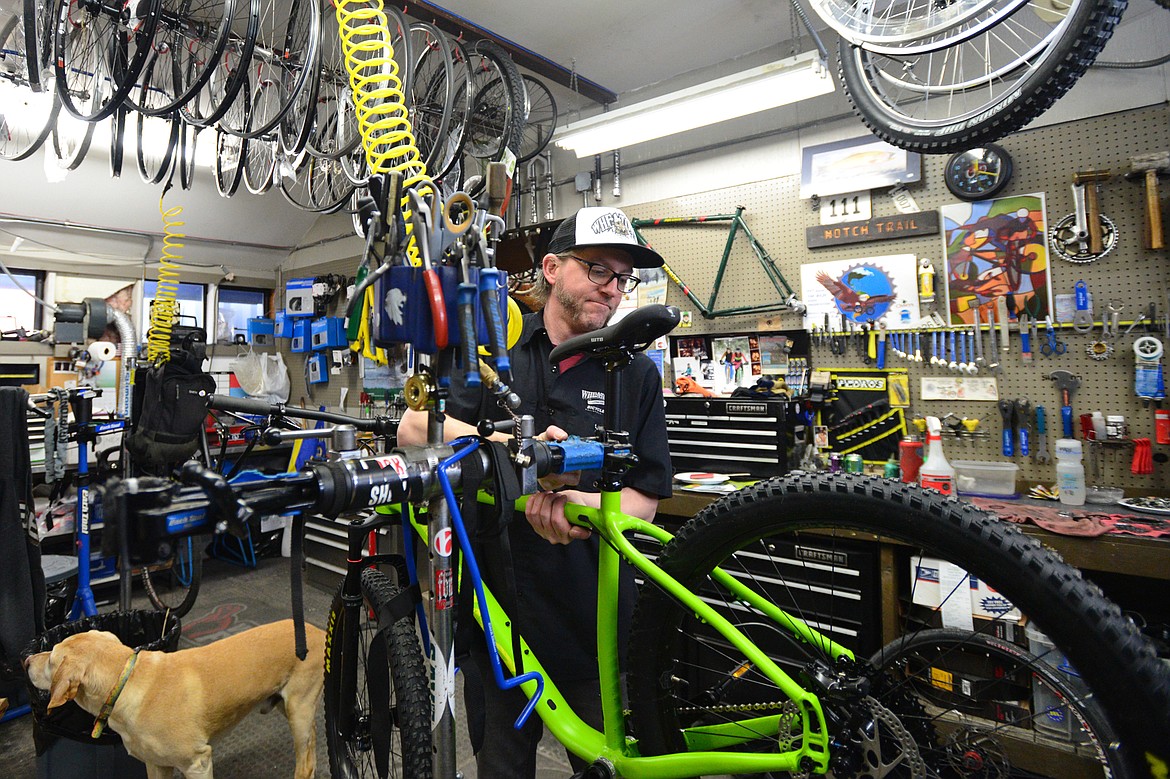 Pete Derrick, accompanied by shop dog Rooster, works on a bike at Wheaton's Cycle on March 8.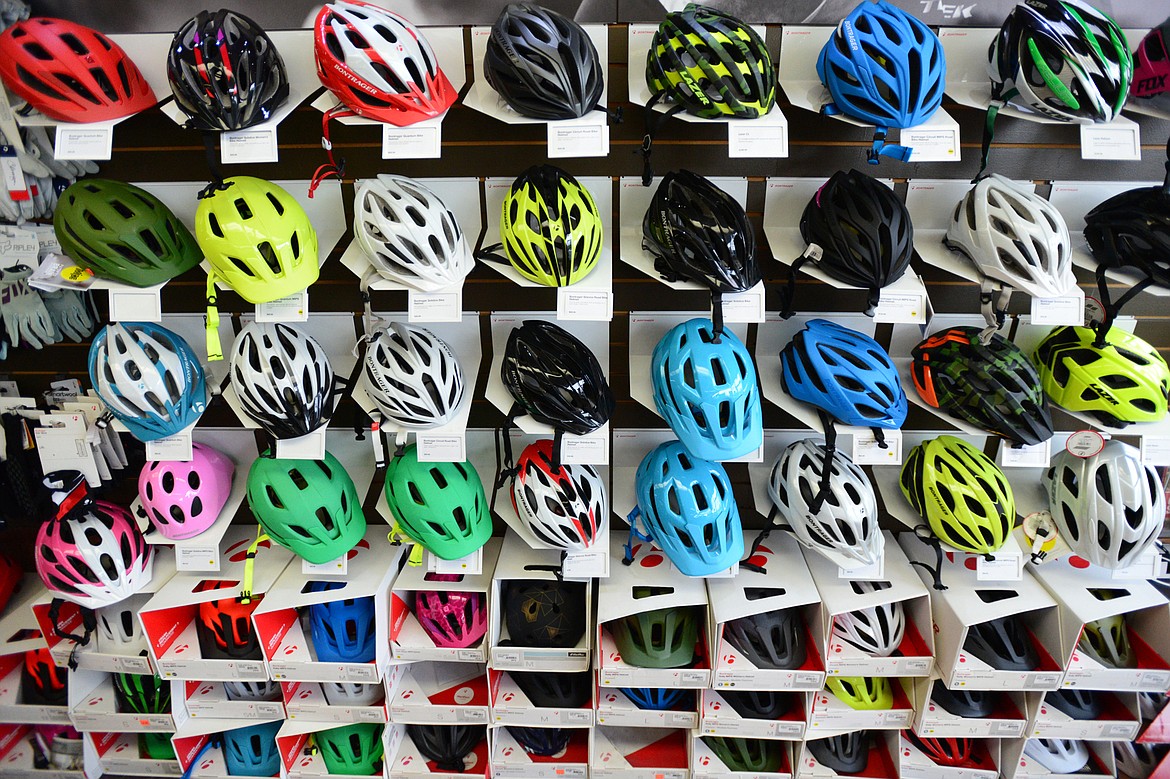 Bike helmets on display at Wheaton's Cycle in Kalispell on Thursday, March 8. (Casey Kreider/Daily Inter Lake)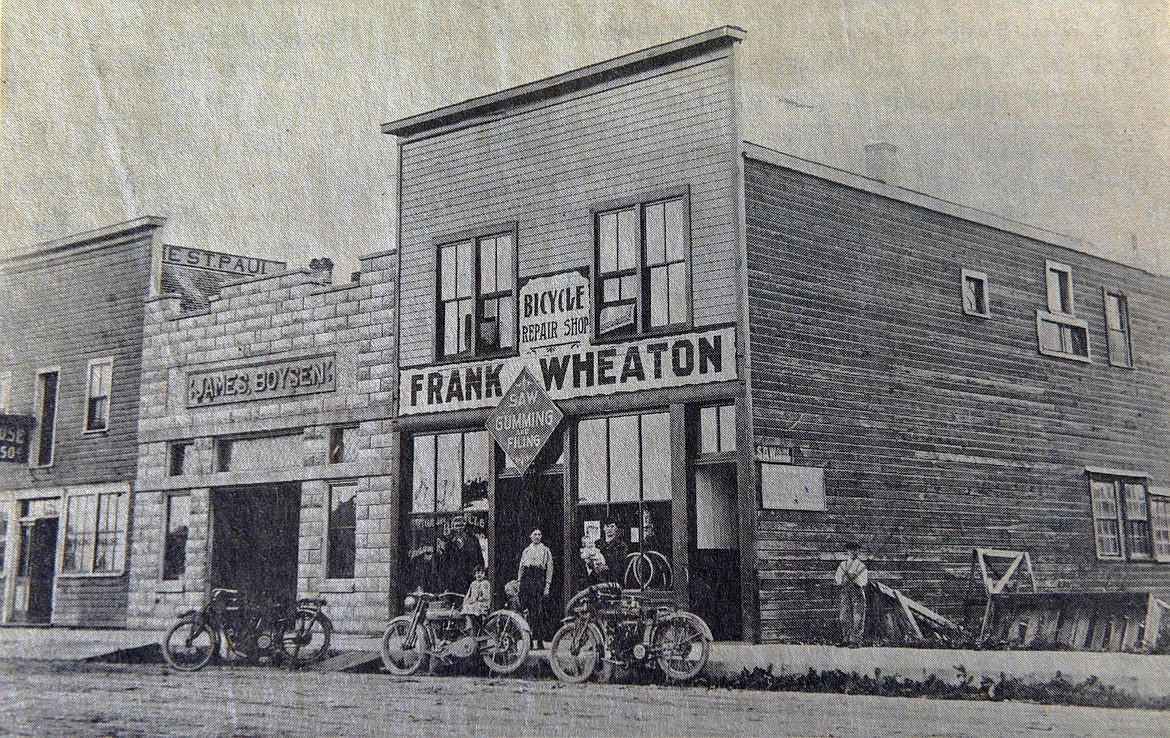 A young Frank Wheaton posed with his wife and little children in front of his store on First Avenue West in Kalispell. (Photo provided)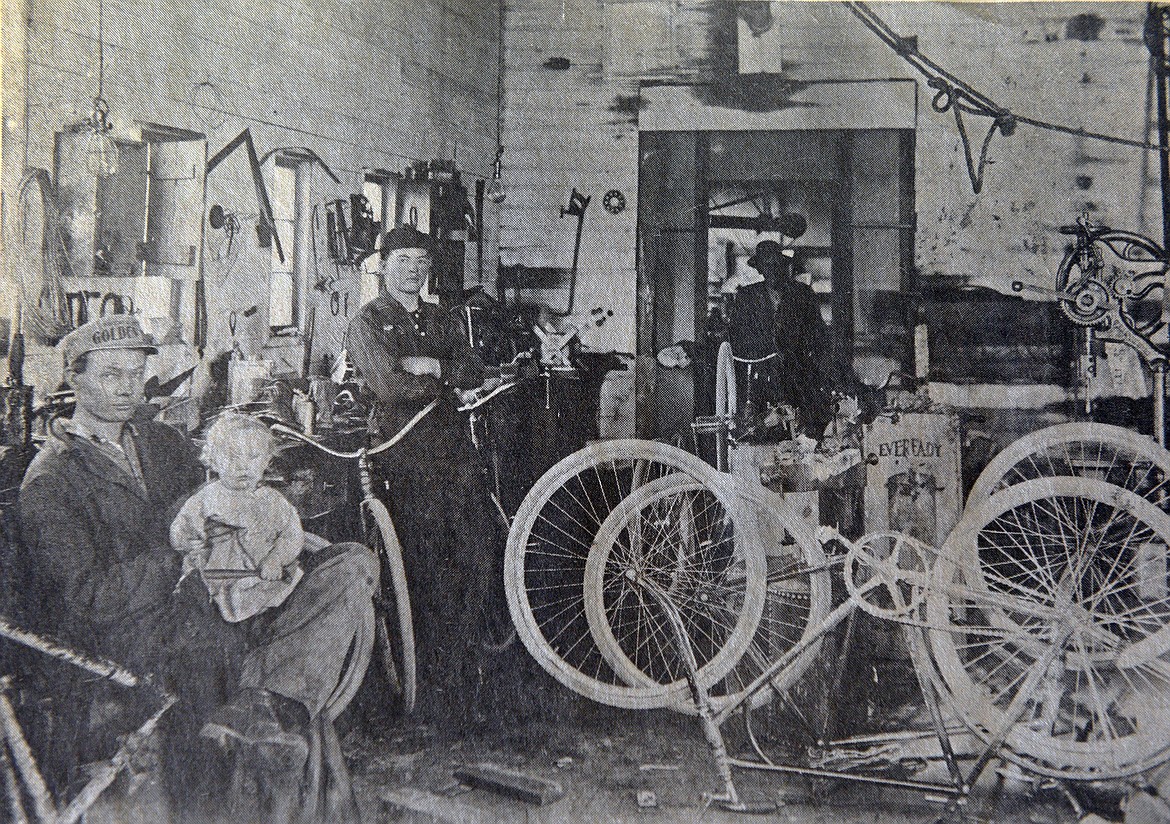 The descendants of Frank Wheaton say he could "Do anything. Fix anything." Frank was in his twenties when the photo here was taken. Cute little guy on his lap was Bernard. This week Bernard and Lucille Wheaton sold their stores and an era is ended. Anyone who has been around Kalispell for very long, knows that Bernard has spent his life in the bicycle shop, and it wasn't "nine to five."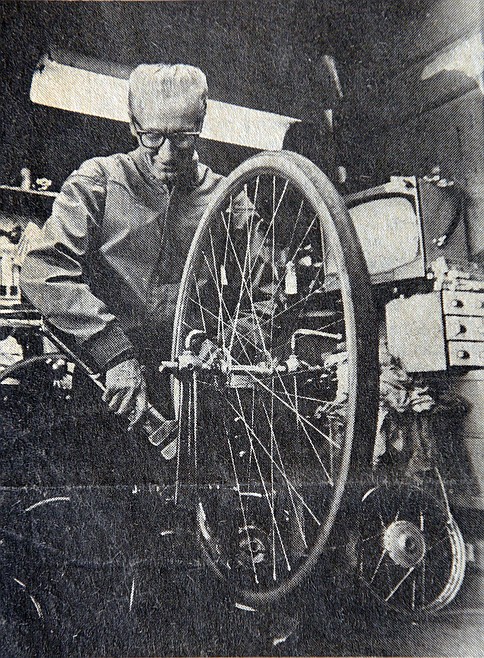 Bernard Wheaton won national awards for his knowledge and performance in the peddling business. (Photo provided)
Previous
Next
by
Lynnette Hintze / Daily Inter Lake & Peregrine Frissell
|
March 18, 2018 4:00 AM
It may seem like bicycles haven't changed all that much through the years, but the employees at Wheaton's will tell you that isn't true at all.
The iconic bike shop on First Avenue West is still adorned with a vintage sign with an old bicycle on it, but stroll inside and you'll see all the latest technology in the rank of bikes that span the sales floor. Wheaton's is celebrating its centennial, and is one of Kalispell's oldest businesses. The secret to keeping the doors open year in and year out really isn't that complicated, according to longtime owner Margaret Lekander. The goal is to make sure Wheaton's is the premier authority for bicyclists in the Flathead Valley.
The store is in the midst of an ownership transition. After 42 years at the helm of Wheaton's, Lekander is handing the reins to Hans Axelsen, a dedicated employee who has worked at Wheaton's for years and has made sure the shop keeps abreast of changes in the cycling world.
"My employees have kept Wheaton's on the cutting edge my whole career," Lekander said.
Right now, Axelsen said fat bikes and equipment that allow for bike touring are especially popular. In addition to offering the latest technology, employees are tuned into providing whatever service their customers want. They sell bicycles, but also pride themselves on being able to provide whatever maintenance customers might need.
Customer service has been a hallmark of Wheaton's since the beginning. While Wheaton's marks 1918 as the year it was founded, Frank Wheaton was dabbling in bike repair as early as 1914, according to Daily Inter Lake archives. A Feb. 6, 1914, Inter Lake article noted that N.C. Nilson had sold his wood-working shop on First Avenue West to Frank Wheaton, "who will install machinery for a modern bicycle, motorcycle and automobile repair shop.
"Mr. Wheaton has been crowded in his small shop at the corner of First Avenue and Third Street West, but will now be able to accommodate his largely increasing business."
Frank Wheaton moved to Kalispell in 1907 from Minnesota, where he was a sheet-metal worker. In the years leading up to 1918, Wheaton apparently had a smattering of business interests until zeroing in on bicycle repair and sales.
A 1914 advertisement in the Inter Lake shows Frank Wheaton was selling new Indian brand motorcycles, with prices ranging from $200 to $325 for various models. But he also had connections to woodworking and the hardware business.
An Inter Lake advertising snippet from Nov. 2, 1918, quoted Wheaton with this vow for quality service: "I do not draw the temper when gumming your saw, and when properly done it will be as good as a new saw at a great saving in price."
Frank Wheaton's son Bernard started working for his father at an early age and took over the business in the mid-1930s. Bernard followed in his father's footsteps, going the distance for customer service.
"He could often be seen through the front window of the bike shop burning the midnight oil, fine-tuning bicycles as if they were irreplaceable gold watches," Bernard's obituary in February 1998 said.
Bernard expanded the store in 1946 by purchasing the lot to the north of Frank's building, and expanded the business name to Wheaton's Cycle and Toy.
"Bernard Wheaton could fix anything," Axelsen said. "That's what we focus on, what's hard. We love to fix bikes and we love to ride bikes."
In a 1974 Inter Lake article about a bicycle boom in the Flathead Valley, Bernard Wheaton said he had seen his business grow by 500 percent over a five-year period. He proudly noted that each new bicycle sold at his store received a 90-minute fine-tuning before it went home with the customer.
Lekander bought Wheaton's in 1976 when she was just 26. She had worked in her family's six bike shops in Minneapolis for nine years. She knew her stuff and her customers. When she had the opportunity to buy Wheaton's from Bernard Wheaton, she didn't hesitate.
Through the years, Lekander tried different strategies to adjust to the ebb and flow of market demands. In the 1990s she branched out to include hobby supplies, skating gear and toys, but when the big box stores came to Kalispell, sales slumped in those categories and she returned to the local store's roots: selling and fixing bikes.
Wheaton's has always embraced innovation to move the business forward. Over the past few years a bike hostel has operated in the space above the bike shop. Axelsen's wife manages the hostel, and he said it's been a big success and is fully booked for a large portion of the summer.
It capitalizes on Kalispell's placement on several major cross-country bike touring routes, and serves as both an inexpensive, comfortable place for cyclists to stay while also helping them connect with kindred spirits. And it's handy if hostel guests need to get their bike fixed while they are in town.
AXELSEN SAID the store won't change drastically as he assumes ownership. After 100 years they know what their bread and butter is, and his goal will be to continue providing excellent service to people in the Flathead Valley. He'd like to see Kalispell develop more cross-town bike trails so cyclists don't have to cross a major highway while commuting from one end of the city to the other.
He said the core redevelopment plan that will remove the railroad tracks through Kalispell is exciting. The plan is to create a trail system using the old railroad bed, and he's hopeful Wheaton's can have an impact in the designs by voicing its thoughts in public hearings and advocating for cyclists. New infrastructure for cyclists could play an integral role in making sure Wheaton's is here for generations to come.
Reporter Peregrine Frissell may be reached at 758-4438 or by email at pfrissell@dailyinterlake.com. Features editor Lynnette Hintze may be reached at 758-4421 or by email at lhintze@dailyinterlake.com.
Recent Headlines
---