Columbia Falls students build cabin for Glacier Park employees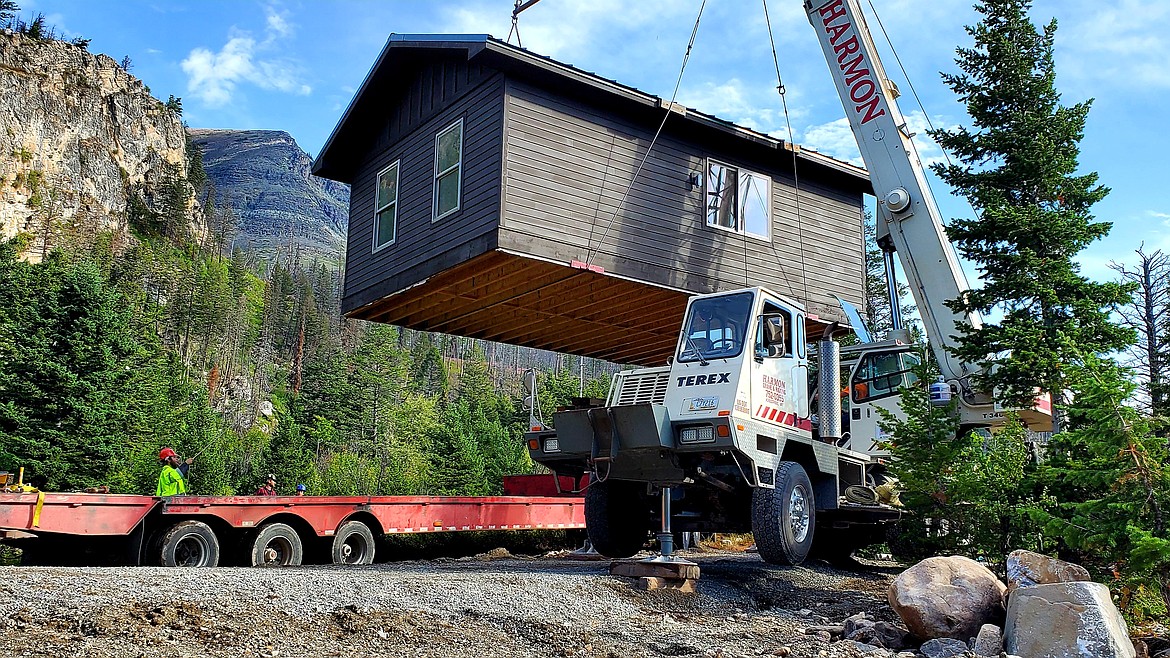 A crane hoists a two-bedroom cabin off a flatbed truck at the Rising Sun Campground in Glacier National Park on Monday, Aug. 9, 2021. A dozen Columbia Falls High School students built the cabin through Glacier's School-to-Park Program. (Chad Sokol/Daily Inter Lake)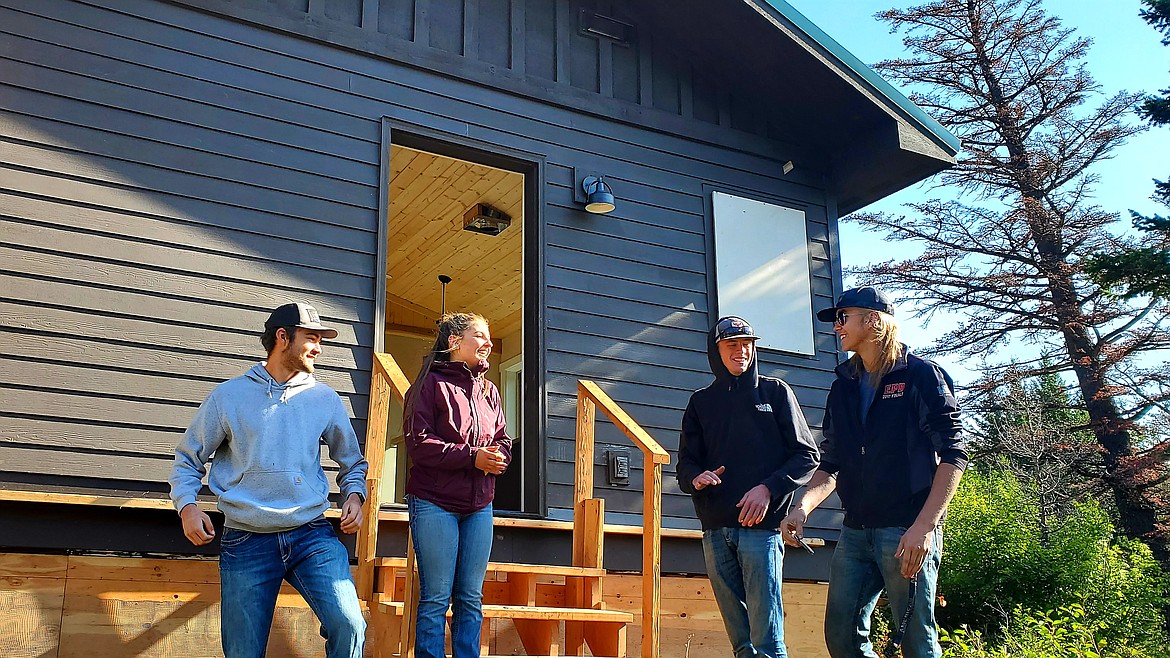 Cody Brothwell and Mae Anderson, at left, and two other peers from Columbia Falls High School stand in front of the two-bedroom cabin they built shortly after it was placed at the Rising Sun Campground on Monday, Aug. 9, 2021. The students built the cabin through Glacier's School-to-Park Program. (Chad Sokol/Daily Inter Lake)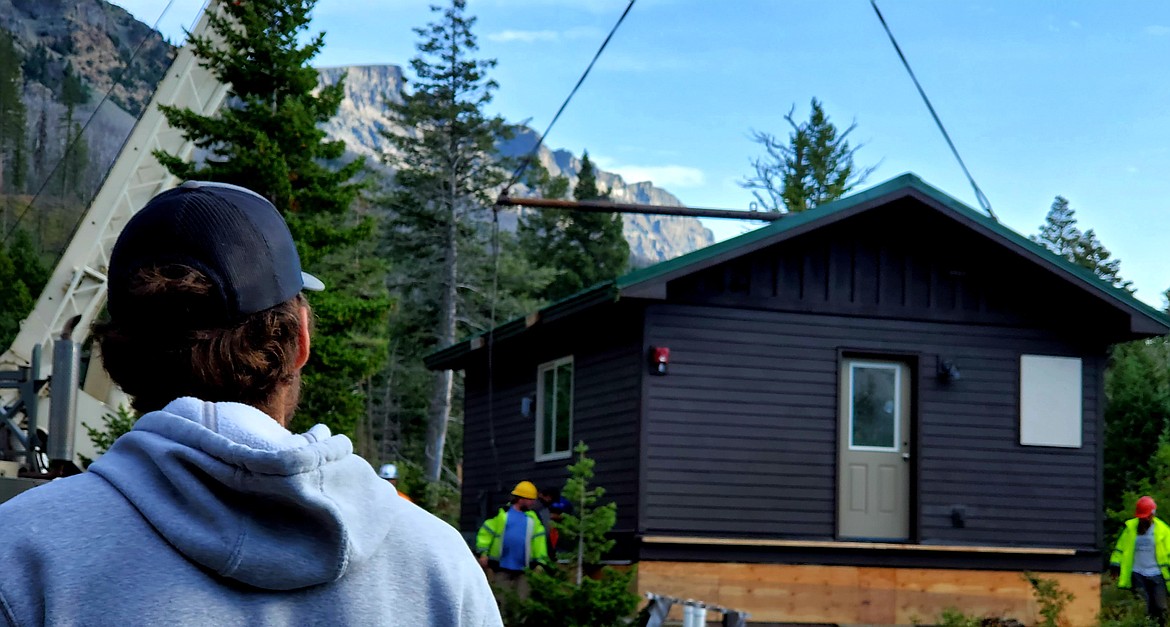 Cody Brothwell, who recently graduated from Columbia Falls High School and now works in facilities maintenance at Glacier National Park, watches Monday, Aug. 9, 2021, as a crane lowers a two-bedroom cabin onto its foundation at Glacier's Rising Sun Campground. Brothwell, 18, was one of a dozen students who built the cabin through Glacier's School-to-Park Program, a partnership with the Columbia Falls School District that teaches students building trades. (Chad Sokol/Daily Inter Lake)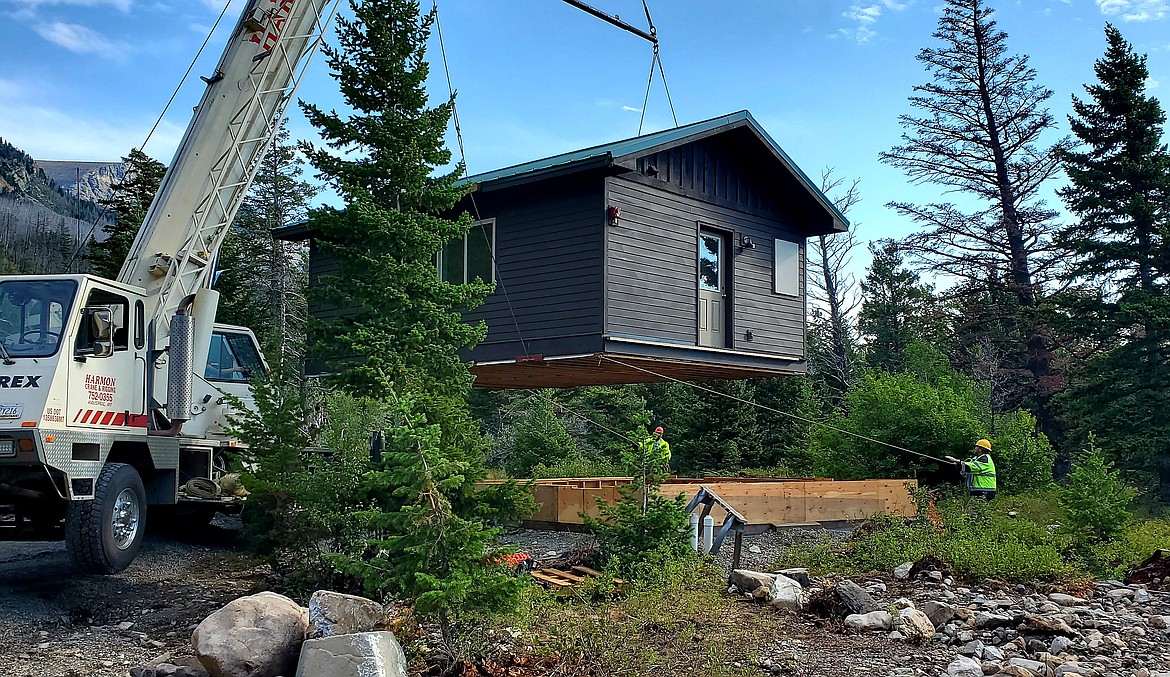 A crane lowers a two-bedroom cabin while a worker pulls a rope to guide it onto its foundation at the Rising Sun Campground in Glacier National Park on Monday, Aug. 9, 2021. A dozen Columbia Falls High School students built the cabin through Glacier's School-to-Park Program. (Chad Sokol/Daily Inter Lake)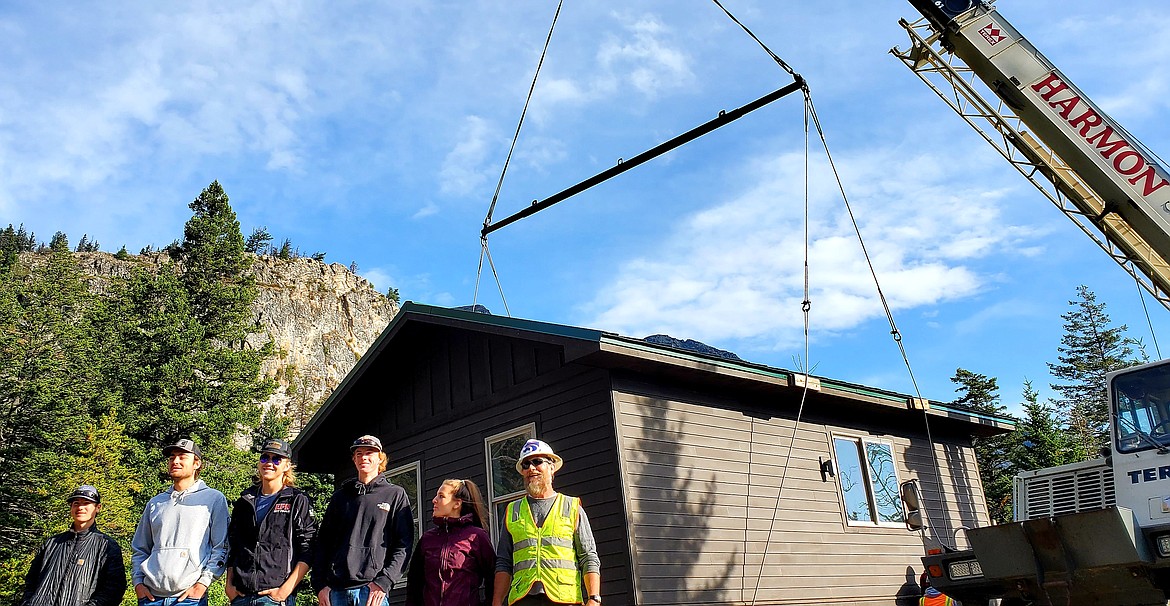 Columbia Falls High School students and Glacier National Park carpenter Bob Jellison pose for photos in front of a two-bedroom cabin they built shortly after it was placed at Glacier's Rising Sun Campground on Monday, Aug. 9, 2021. (Chad Sokol/Daily Inter Lake)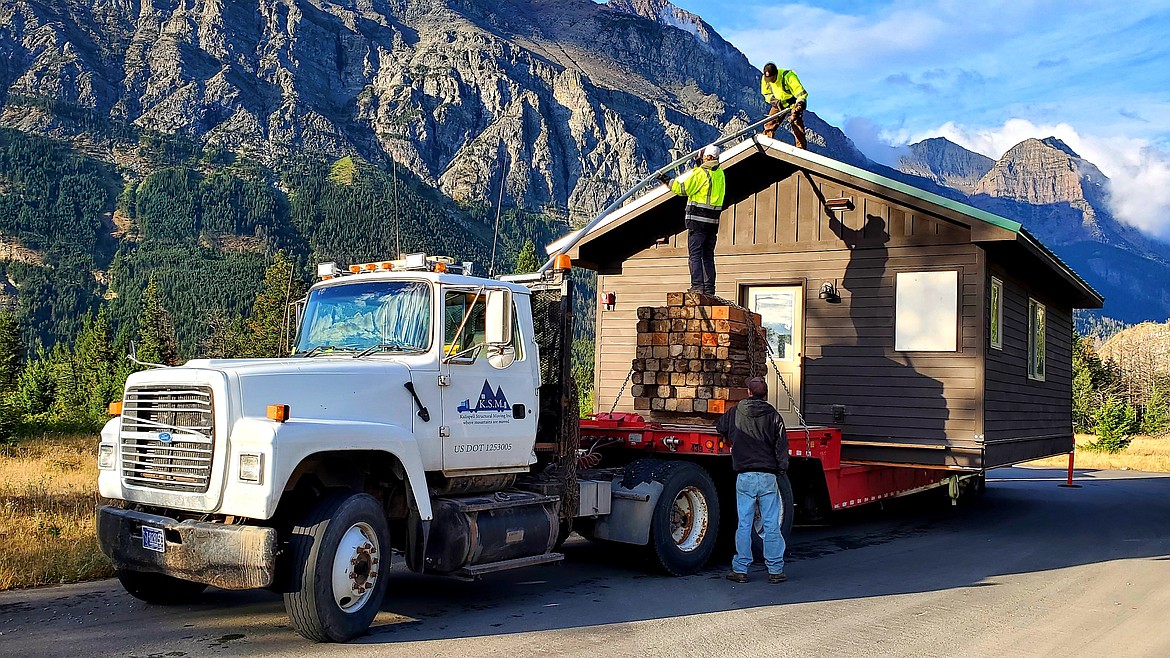 Workers with Kalispell Structural Movers prepare a two-bedroom cabin to be unloaded from a flatbed truck at the Rising Sun Campground in Glacier National Park on Monday, Aug. 9, 2021. A dozen Columbia Falls High School students built the cabin through Glacier's School-to-Park Program. (Chad Sokol/Daily Inter Lake)
Previous
Next
by
CHAD SOKOL
Daily Inter Lake
|
August 11, 2021 12:00 AM
A group of Columbia Falls High School students watched in excitement Monday morning as a crane hoisted a two-bedroom, nearly 400-square-foot cabin off a flatbed truck and onto a waiting foundation at the Rising Sun Campground in Glacier National Park.
It was the culmination of a year of hard work inside a large pole barn on their school's campus, where the students learned and applied all kinds of construction skills — framing, flooring, roofing, hanging drywall and exterior siding, and installing electrical, plumbing and fire-suppression systems.
Now their project is complete and ready to house seasonal employees when the park reopens for the 2022 visitor season.
"It feels so good. I feel so proud of myself and everybody," said Mae Anderson, one of the dozen students who built the cabin in teacher Jeff Remiker's building trades class.
Anderson, a rising senior who just turned 18, said she was drawn to the project because she wanted to work with her hands while peers were busy in traditional classrooms. She also plans to pursue an architecture degree and figured some construction experience would come in handy.
"I had never really done anything like that before," she said of the experience. "I learned a lot of stuff that I had no clue about before."
The cabin, which includes a kitchen, a bathroom and a common area, was built through Glacier's School-to-Park Program, a partnership with the Columbia Falls School District that is heading into a third year of operation.
Students in the program previously built a nearly identical cabin that was placed at the Polebridge Ranger Station last year, as well as a kiosk that will be placed at the Camas Road park entrance later this month.
JIM FOSTER, Glacier's chief of facilities, said he got the idea in 2016 from a similar program at Denali National Park in Alaska. While National Park Service higher-ups in Washington, D.C., were quick to embrace the idea, it wasn't until summer 2018 that Foster met with Columbia Falls' high school principal and district superintendent.
They jumped at the opportunity to teach students vocational skills with projects that would serve real, practical purposes at the park, Foster said.
The district covered the cost of building the large pole barn so students could work indoors year-round. The Glacier National Park Conservancy, the park's official fundraising nonprofit, pitched in a grant to run utilities to the barn. And the park hired Bob Jellison, an experienced carpenter, to help teach students alongside Remiker.
"It's been a labor of love for a number of years now. It took a lot of time and a lot of effort to get this thing stood up," Foster said of the program. "It's going gangbusters now, and everybody loves it. The school is all over it."
Glacier also benefits immensely from the program. Foster said park crews are too preoccupied with maintenance work orders to build new structures in-house, and hiring contractors would be far too expensive.
Now that it's up and running, Foster said Glacier's operating costs for the School-to-Park Program are just $180,000 a year. That includes Jellison's salary, the cost of supplying building materials and tool belts for students, the cost of laying foundations and running utilities, and the cost of hiring movers to transport each cabin to its final destination.
"This is helping us solve a big problem here in the park," Foster said. "For $180,000, we're building a two-bedroom house and getting all the utilities and getting it all buttoned up and ready for next year.
"It's an extremely nice setting for our seasonals coming in," he added. "It's some of the nicest housing we have in the park."
STILL, FOSTER emphasized, the biggest plus-side of the program is the ability to connect with students and tap into a pipeline of young, talented workers who might seek jobs in the park.
"Being able to impact the lives of high school students and introduce them to the Park Service is very, very important to us," he said.
Students are carefully selected for the building trades course and can graduate with state-approved trade apprenticeships on their resumes, Foster said. That goes a long way toward getting jobs in the field.
Cody Brothwell, 18, recently graduated from Columbia Falls and took a job in facilities maintenance at Glacier, working under Foster. Brothwell took the building trades class twice, working on the Polebridge Ranger Station cabin as a junior and the Rising Sun Campground cabin as a senior.
"The first year was kind of nerve-wracking," Brothwell said. But on Monday, he said it was cool to see the finished project in all its glory.
For Anderson, the only girl in last year's building trades class, it's nice to know there are increasingly more pathways for women to work in the male-dominated trades.
Her advice: "Make good friends. Don't be afraid to mess up. Just try it."
Assistant editor Chad Sokol may be reached at 406-758-4439 or csokol@dailyinterlake.com.
Recent Headlines
---