Nurses union, hospital managers deadlocked on contract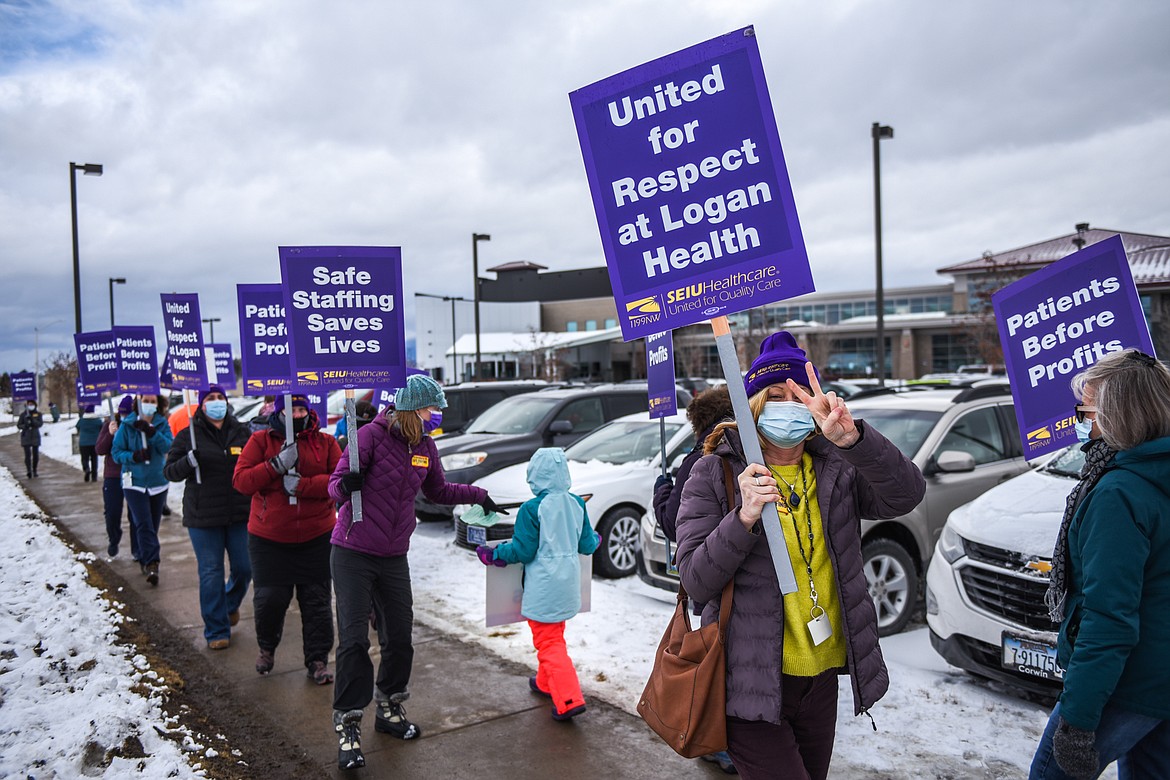 Registered nurses and healthcare workers with Logan Health/Kalispell Regional Healthcare picket outside Kalispell Regional Medical Center on Tuesday. (Casey Kreider/Daily Inter Lake)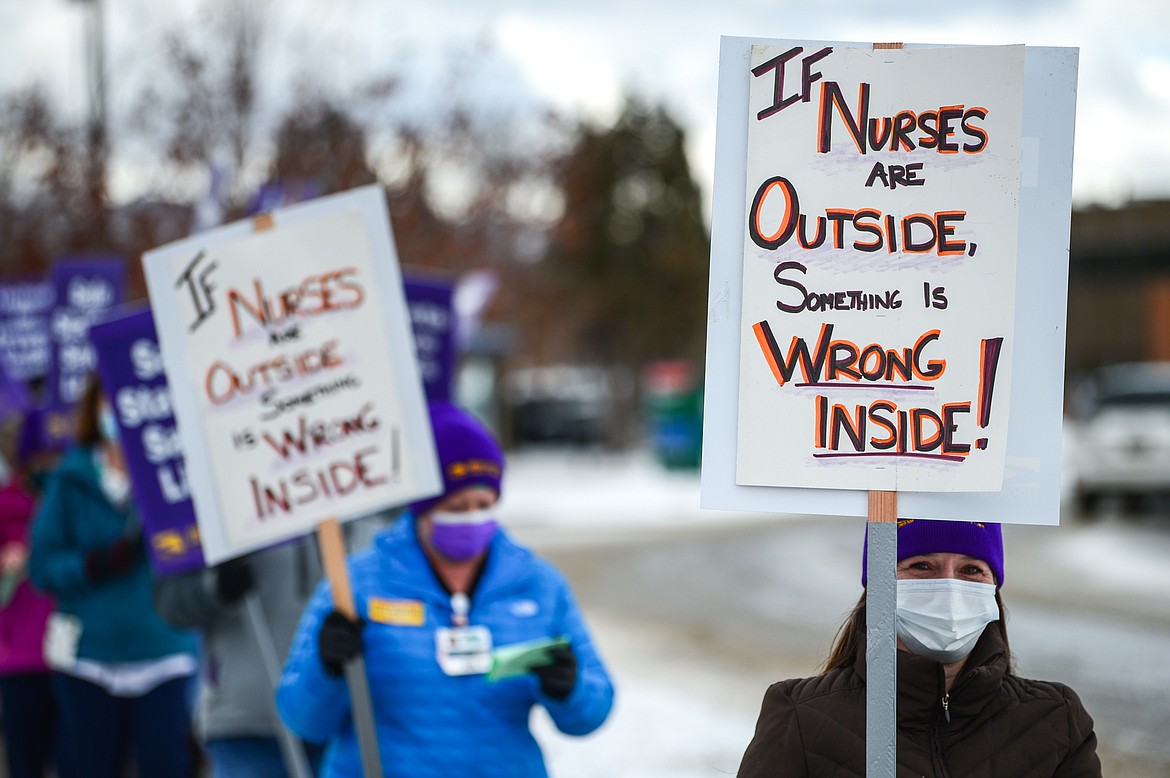 Registered nurses and healthcare workers with Logan Health/Kalispell Regional Healthcare picket outside Kalispell Regional Medical Center on Tuesday. (Casey Kreider/Daily Inter Lake)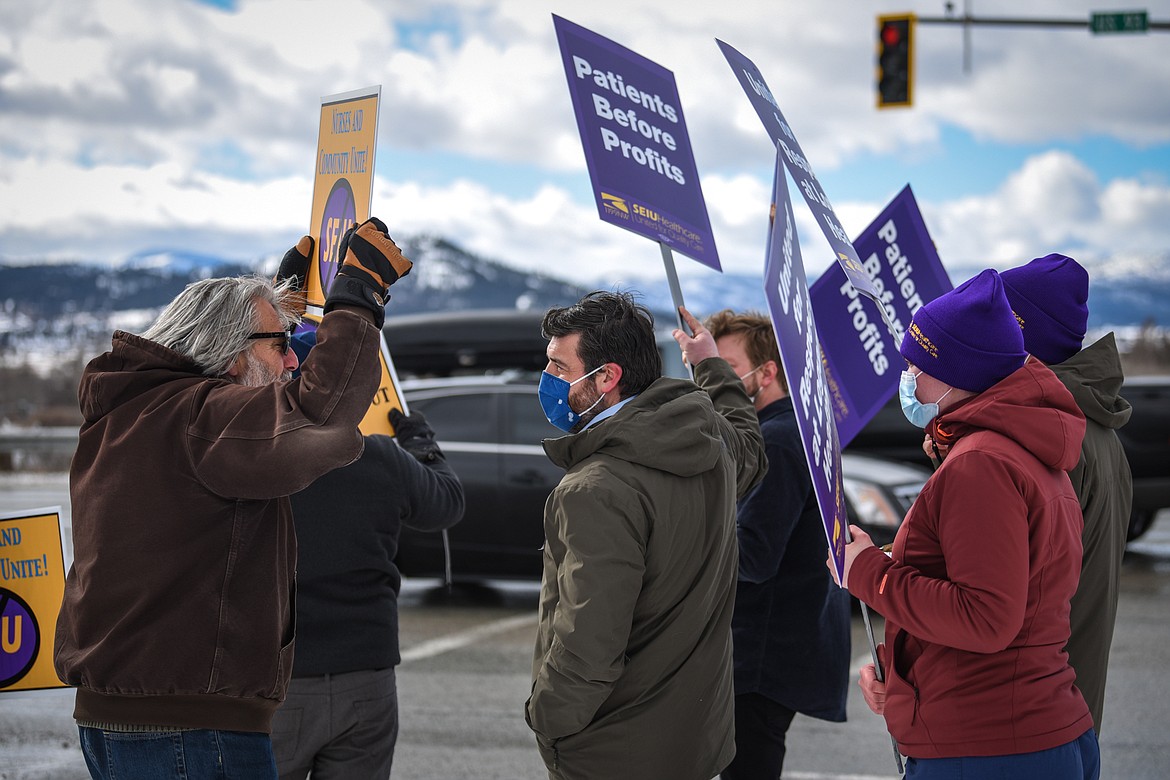 Two members of a group opposing the SEIU Healthcare 1199NW union clash with registered nurses and health care workers from Logan Health gathered to picket along U.S. 93 near Kalispell Regional Medical Center on Tuesday, Feb. 23, 2021. (Casey Kreider/Daily Inter Lake)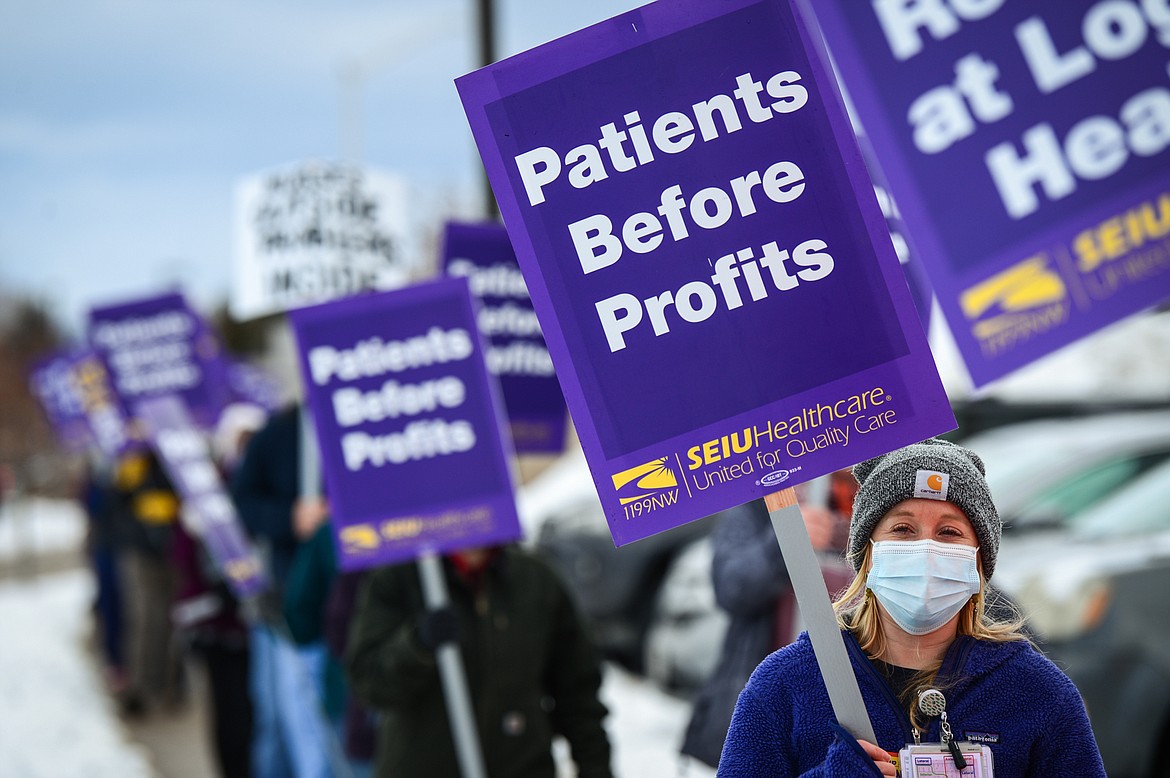 Registered nurses and healthcare workers with Logan Health/Kalispell Regional Healthcare picket outside Kalispell Regional Medical Center on Tuesday. (Casey Kreider/Daily Inter Lake)
Previous
Next
by
KIANNA GARDNER
Daily Inter Lake
|
February 23, 2021 2:00 PM
Kalispell Regional Healthcare nurses and Flathead Valley residents picketed at the hospital's main campus Tuesday in an effort to push hospital management to bargain in good faith and settle an initial contract with the nurses union — a process that has proven challenging as the parties seem to be at a stalemate on various economic issues.
At least 100 individuals showed up for the all-day event, which included a small number of counter protesters who primarily take issue with costs associated with the union.
Nurses with Kalispell Regional Medical Center, The HealthCenter, Brendan House and Kalispell Regional Health Clinics voted 372 to 199 in July 2019 to unionize with the Service Employees International Union Healthcare 1199NW (SEIU).
It has been roughly 18 months since negotiations began and the groups have yet to settle an initial contract. The holdup is their inability to agree on benefits, staffing and wages and other matters involving hospital dollars.
Neither the nurses union nor hospital management have said exactly how much registered nurses at Kalispell Regional earn, but according to a recent email sent to hospital staff from management, the union is currently asking for a 13% increase in base wages and a 25% increase in total compensation in the first year. The email says that request, among others, are "unrealistic proposals" that are "limiting the progress of bargaining."
However, nurses in the union say it's important to understand there are large costs associated with initial contracts, and said Kalispell Regional has some catching up to do wage-wise if it expects to recruit and retain quality staff. According to longtime nurses Donna Nelson and Susan Sweigart, their requests are based on what other hospitals offer their staff in terms of wages, benefits and more.

They said while much of the union's research has focused on facilities throughout Montana, the team has also studied hospitals in areas such as the Tri Cities near Spokane, Washington, where the cost of living is comparable to Flathead County.
"We don't even come close," said Nelson, who has been a nurse at Kalispell Regional for nine years.
Nelson and Sweigart said they have both witnessed colleagues leave the hospital, simply because pay is higher in neighboring counties, which other nurses understand.
Rebecca Mead, for example, said she was surprised when she had to take a "good-sized" pay cut when she transferred to Kalispell Regional from Benefis Health System in Great Falls, where the cost of living is typically lower than it is in Flathead County. And Joyce Stevens, who works on the hospital's medical floor, said low wages recently prompted a co-worker to leave her family behind and pursue a more lucrative career in travel nursing.
"She is missing out on precious time with her kids because our hospital doesn't pay her enough to stay. But if some other hospital offers her way more money to do the same job, what choice does she have?" Stevens said.
THE UNION argues a more competitive wage also will attract top-notch workers to the area. Sweigart said departments are operating with less staff than they have in the past, which leads to burnout among employees.
"We want to be able to go home and know we did a good job for our patients, which means we need to be able to give 100% on the floor," Sweigart said. "It's becoming the norm that we are working short-staffed in all the areas of the facility."
Stevens, whose picket sign read "Safe Staffing Saves Lives," said it has been difficult to hire new staff to replace those who depart for higher-paying jobs. In her 20-bed unit, she said there used to be at least three aides working per night shift to assist nurses with non-medical tasks. Now, she said it is rare to see more than one aide.
"When all of a sudden you need three staff members to help turn over an obese patient, it's like every single person on duty needs to drop whatever they are doing to help," Stevens said. "It seems like we are lucky if we get a full 20 minutes for lunch. We ran ragged some days."
They allege all of this has impacted their ability to deliver the high quality of patient care Kalispell Regional Healthcare has long prided itself on — the same level of care that is now the driving vision for Logan Health.
"We go into this profession because we want to help people and be able to support our friends and family," said Addi Eastman, who works in same-day surgery. "It's really hard to leave your shift at the end of the day knowing that your patients didn't get all of you."
Eastman used to work on the same floor as Stevens, but recently quit that unit because she felt she could no longer give her patients the time and attention they deserved, something she partially attributes to poor patient-staffing ratios.
"When you can't give them all of you, it's really draining," Eastman said. "You lose sleep over it."
UNION MEMBERS hope public events such as Tuesday's picket will also demonstrate to hospital management that the community supports the nurses' efforts as well.
"The picket really shows that locals are interested in supporting the union, too. Ultimately, they are the ones we are doing this for," Sweigart said. "I think when management sees how widespread the support is they will see this isn't just about the nurses, it's about our entire community and the patients we serve."
What began as yard signs emerging around the valley last summer has evolved into vehicle caravan events and now picketing. Although the nurses have yet to schedule a formal strike, Nelson said the measure isn't off the table.
"We don't have to do anymore than what we are doing today. We don't want to strike, we don't want to walk out on our patients, but we want to stand up for our patients," Nelson said. "We'll do what we have to do."
Kalispell Regional officials have maintained events will not sway their bargaining efforts. In a separate email to employees, officials said pickets are "usually an attempt to pressure an employer," and to bring the union's issues to the attention of the public.
"While SEIU blames KRH, the reality is that SEIU is responsible for how slow the negotiating process is proceeding, and their demands are unrealistic when compared to other hospitals in the state," the email states, though it does not elaborate on exactly how the demands stack up against other health-care entities.
At present, union proposals include the following: each employee's birthday be treated as a holiday for the employee, the formation of a nursing staffing committee so nurses can assist in hiring efforts, the hiring of dedicated relief nurses so others can go on breaks, Kalispell Regional cannot contest SEIU's efforts to unionize others and the union can use Kalispell Regional meeting rooms "at will."
Reporter Kianna Gardner may be reached at 758-4407 or kgardner@dailyinterlake.com.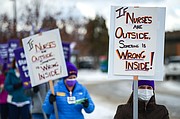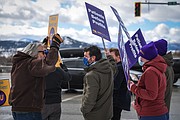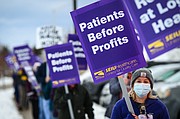 Reporter Kianna Gardner can be reached at 758-4407 or kgardner@dailyinterlake.com
Recent Headlines
---