Bonus incentive extended for Kalispell subs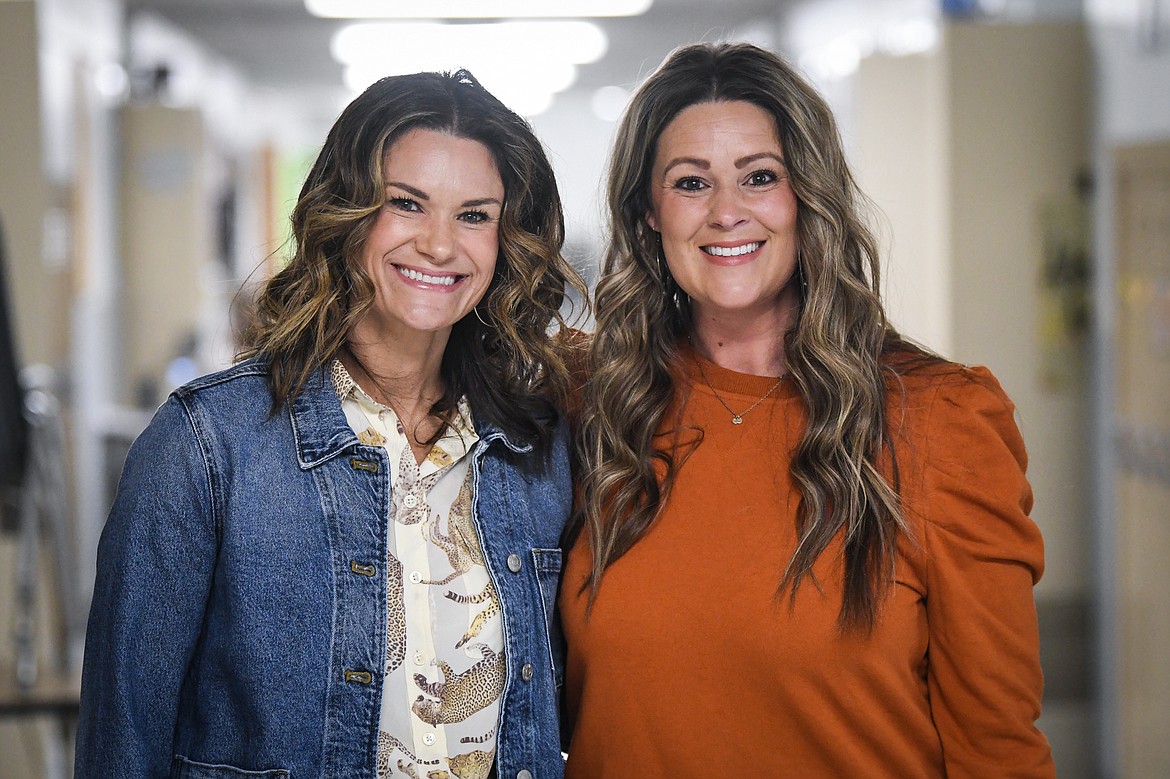 Substitute teacher Melissa Speer, left, with Bree Eaton, Substitute Project Manager, at Elrod Elementary School in Kalispell on Wednesday, Sept. 8. (Casey Kreider/Daily Inter Lake)
by
HILARY MATHESON
Daily Inter Lake
|
September 14, 2021 12:00 AM
Kalispell Public Schools is looking to fill up its substitute pool as it experiences another shortage at the start of another school year amid the Covid-19 pandemic.
To mitigate the shortage, the school district extended a recruitment and retention program, offering bonuses for the 2021-22 school year.
The more days a substitute works, the higher the bonus amount. This year, the district has set aside $50,770 for the incentive program. Substitutes may earn up to $1,800 in bonuses.
"We need subs to keep our doors open," district Human Resources Director Tracy Scott.
Substitutes are needed in all positions throughout the district — teachers, paraprofessionals, food-service workers, bus drivers and custodians. Currently, there are about 150 substitutes signed up to work.
"We would like to keep it around 500 to 700 people," said Bree Eaton, district substitute project manager. "That sounds like a lot, but a lot of our subs can only work half days or a couple days a week or even once a month."
Scott added, "Whenever you have really low unemployment you're going to have an extremely low sub pool, too."
Bonuses were first offered to substitutes last school year when the sub shortage reached a critical point due in part to pandemic-related quarantines or isolation. Many veteran substitutes also didn't want to take a chance returning to the classroom if they themselves, or their family members, were at higher risk for severe illness from Covid-19, according to Eaton in a September 2020 Daily Inter Lake article.
Scott and Eaton said the incentive program was successful in motivating substitutes to work more days on average than in previous years.
"Even with Covid-19, we were able to keep up with the need for coverage in our classrooms," Scott said. "We were able to keep our doors open, so the bonus was huge," Scott said.
This was thanks to community members who stepped up, including Melissa Speer, who started subbing in Kalispell Public Schools last year, putting to good use her previous work experience as a teacher. She is also a mother of three school-aged children.
"That was my main motivation — keeping schools open," Speer said.
She continued because of the flexibility the job offered. An online system allows people to filter substitute jobs by preferences. If someone can only work a specific day of the week or prefers subbing at the high school level, for example, that's an option. Speer said she usually takes jobs from grades three through high school.
"If people are looking for a job that is the same hours as their kids' school day, and allows flexibility, this is the job for them," Scott said.
"The ideal person could be a parent. Somebody who is retired," she said. "We have a lot of Realtors, believe it or not, if they don't have appointments on a day they'll go ahead and sub."
PREVIOUS EXPERIENCE working in education, or having a teaching certificate, is not necessary. At a minimum, substitutes must have a high school diploma or equivalent. Bus drivers must have a commercial driver's license (CDL). The district may cover costs to obtain a CDL.
Eaton and Scott said teacher and paraprofessional substitutes need to love kids, have patience and an interest in education.
"We train you on everything else," Scott said.
Once the application, background check and fingerprinting process is completed, substitutes will go through orientation. For substitute teachers and paraprofessionals, this would include techniques on classroom management. Classroom teachers typically leave lesson plans for subs.
Scott, Eaton and Speer highly recommended individuals interested in pursuing a degree or career working in a school environment should try subbing.
"Say if you are a young person working in the food-service industry but are looking to get a career in teaching, this is a good way to supplement and try it out," Scott said.
Eaton added, "It's getting your foot in the door."
The daily rate for substitute teachers is $75 to $90 per day, depending on education. Paraprofessional, food service and custodian substitutes are paid an hourly rate of $12. Bus driver substitutes are paid $19 an hour.
The district has divided the school year into two terms to pay out the bonuses. The first term is 91 days and the second, 89 days.
In the first term, this starts at $230 for subs working 23 days. If they work 46 days they will receive $460. For subs who work 73 days, they will be eligible for $730 plus $10 for each additional day worked.
In the second term, the bonus starts at $220 for subs who work 22 days. If they work 45 days they receive $450. Substitutes who work 71 days will be eligible for $710, plus $10 each day worked beyond that.
The district is also offering a finder's fee for district employees, excluding the human resources department, who recruit a substitute who works at least 15 times. Both the employee and sub would receive $50 bonuses.
"This is really a community effort in order to make sure during this time of uncertainty with Covid that we can keep our doors open and our community and families continue to work," Scott said.
People interested in becoming a substitute may apply online at https://kalispell.tedk12.com/hire/Index.aspx. Call 751-3444 for more information.
Reporter Hilary Matheson may be reached at 758-4431 or hmatheson@dailyinterlake.com.
---