School Covid guidance stokes health board criticism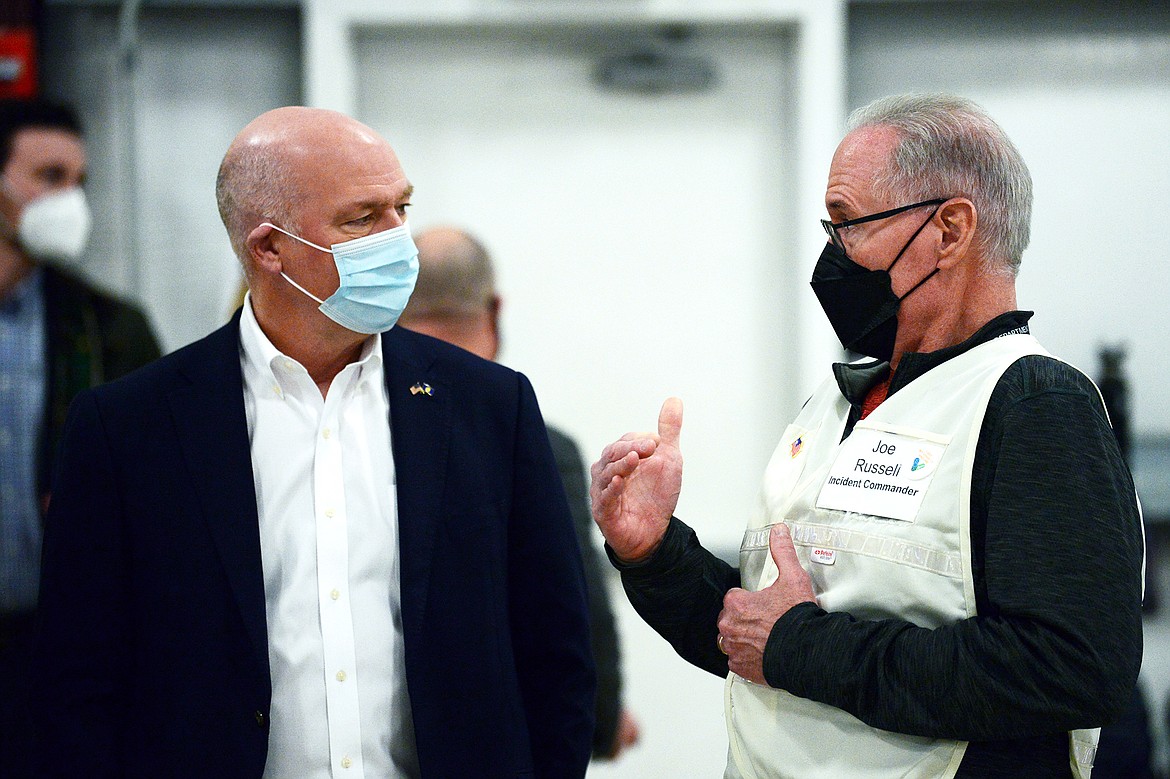 Montana Gov. Greg Gianforte speaks with Flathead County Health Officer Joe Russell during a tour of a Covid-19 vaccination clinic at the Flathead County Fairgrounds in Kalispell in this Feb. 12, 2021, file photo. (Casey Kreider/Daily Inter Lake)
by
MATT BALDWIN
Daily Inter Lake
|
January 26, 2022 12:00 AM
Flathead County Commissioner Pam Holmquist adamantly defended the actions of the county health board over the course of the Covid-19 pandemic after one board member lobbed accusations that the board had failed to uphold an oath to the Constitution and was harming the community.
The fiery exchange took place at the Flathead City-County Board of Health meeting Jan. 18 following public comment that was critical of the board and Health Officer Joe Russell's recommendations to local schools regarding isolation and quarantine guidelines for students.
Russell had sent a memo earlier this month to Flathead County school superintendents noting guidelines that recommend quarantines be implemented based on a person's vaccination status or previous Covid infection.
However, on Tuesday, the county health department announced that it was suspending those quarantine measures and its contact tracing efforts. A press release from the health department said the decision was based on new recommendations from the Association of State and Territorial Health Officials and the Council of State and Territorial Epidemiologists.
Ample public comment at the Jan. 18 meeting suggested that the now-rescinded guidance on quarantines constituted discrimination based on vaccine status and was unlawful under House Bill 702 passed by the 2021 Legislature.
Russell responded to the criticism at the meeting, stating that the memo in question offered schools recommendations based on state health department and CDC guidelines, and was not a mandate.
He noted that schools have remained open during his tenure through the pandemic, and that can be partially attributed to the quarantine and isolation protocol.
"I have worked with superintendents to keep these schools open because I understand how important it is," he said.
Holmquist contended that the board had fought mandates at every turn during the pandemic.
"We stood strong on that," she said at the meeting.
"I'm very proud of the health board and what it has done," Holmquist continued.
"I can say we kept things open. When Gov. Bullock came down on businesses … we said 'heck no. We're not doing that.'"
"It's a little unfortunate that now, all of a sudden, we're being told that we're forcing everyone to do something, when we have never done that."
She did suggest that future memos to schools emphasize that any guidance is merely a recommendation of the health officer, not a mandate.
Still, outspoken board member Dr. Annie Bukacek — who often is critical of Russell's actions — suggested that superintendents interpret these memos "like a force of law."
"It might not be a mandate officially … but it carries a huge amount of weight when they hear the health officer," she said. "These letters are always very strong."
BUKACEK OFFERED a different view of how the board has handled the pandemic, going as far as suggesting some members have "not supported liberty."
"It is not true that this board has never supported a mandate," Bukacek said, pointing to a March 19, 2020 board vote regarding a health officer order closing indoor seating at bars and restaurants. Bukacek was the sole no vote on the agenda item, while board member Ronalee Skees had made the motion to support the order.
Skees, meanwhile, defended her actions on the board and took Bukacek to task for making "inflammatory accusations" toward her.
"I do not believe that I've ever violated my oath or violated anything to do with the Constitution," Skees said in comments directed at Bukacek. "You have attacked me as a person, and in doing so, I have received text messages calling me a Marxist revolutionary, socialist, communist, along with text messages saying they're going to follow me home and remove me from the community."
In an email to board members and the news media following the meeting, Bukacek doubled down on her accusations and said that the community is "worse" because of the board's actions.
"Ms. Skees expressed outrage that I stated supporting such mandates was a breach of the oath we have all taken to uphold the Constitution," Bukacek wrote. "I will continue to honor my oath. Ms. Skees is free to continue her 'outrage.'"
ALSO AT the Jan. 18 meeting, the board voted to approve Roger Noble as chair and Holmquist as vice chair.
Recent Headlines
---