Flathead Lake cherry harvest 'just around the corner'
Storms, floods, and cooler weather are expected to delay the first harvest of Flathead Lake cherries this year. Despite the delay and a few orchards that suffered damage due to hail, Flathead Lake Cherry Growers are still expecting an abundant harvest this summer.
Bruce Johnson, who has owned an orchard for 25 years and is on the board of directors with Flathead Lake Cherry Growers co-op, said that they are hoping to be in full gear by Aug. 1, though some varieties will be ready earlier than that.
"By this time last year, we had had many days in a row of 90-plus weather, and that's really unusual. This year, we've had just a few days in the 80s and a lot of days way under that temperature. Our harvest will be a little bit delayed compared to normal because it's been cooler in the spring, and that slows things down a bit," Johnson said.
However, the delay will help cherry growers in Flathead Valley compete with their neighbors in Washington state as Flathead cherries will continue to be available later in the season while other crops taper off.
"The Washington crop is so large compared to ours, so the later crops will distance us from them," Johnson said.
The cherries produced on Flathead Lake are enjoyed worldwide according to Johnson.
"Some of our cherries go to Korea, Japan and Canada," he notes.
The 80-plus members in the growers co-op take stringent measures to ensure that quality crops are produced as the fruit is delicate and can be easily damaged by weather that is too cold, weather that is too hot, rain, hail or insects. Once a cherry is bruised or split open, it is damaged.
Unfortunately, not every orchard survived the unusual spring weather. Late snow storms in May and a heavy hail storm on July 7 destroyed at least four orchards on Finley Point.
Kimberly Hockaday-Quinby, a fourth-generation Montana cherry grower, reluctantly closed Hockaday Orchards this year after suffering damage from a hail storm.
"The trees were just exploding," she said of the orchard prior to the storm. "There were cherries and leaves all over the ground when it was done, and it was a really long hail storm. It just kept going on. It was like 10 to 15 minutes and the hail was over an inch in diameter."
"This is the second time in my lifetime that we have not opened the orchard," she added. In 2007, a waterspout tornado on Flathead Lake caused severe damage to the cherry trees resulting in the closure of several orchards including Hockaday Orchards.
Despite having to close the farm, Hockaday-Quinby remains positive.
"It's part of farming," she said. "You don't get a perfect crop every year and we've been very, very fortunate the last few years to have good crops."

Hockaday-Quinby said she looks forward to seeing cherry-lovers next year and asked that people support the orchards that did survive the year.
Johnson said that cherry trees put enormous energy into producing fruit and each tree only produces one crop per year. The effort that goes into cultivating the trees is well-rewarded, however, as Johnson said that cherries are "just around the corner."
Reporter Summer Zalesky may be reached at szalesky@dailyinterlake.com.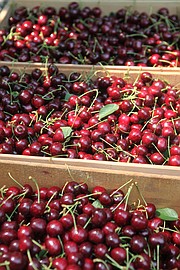 Recent Headlines
---