Kalispell FFA wins state championship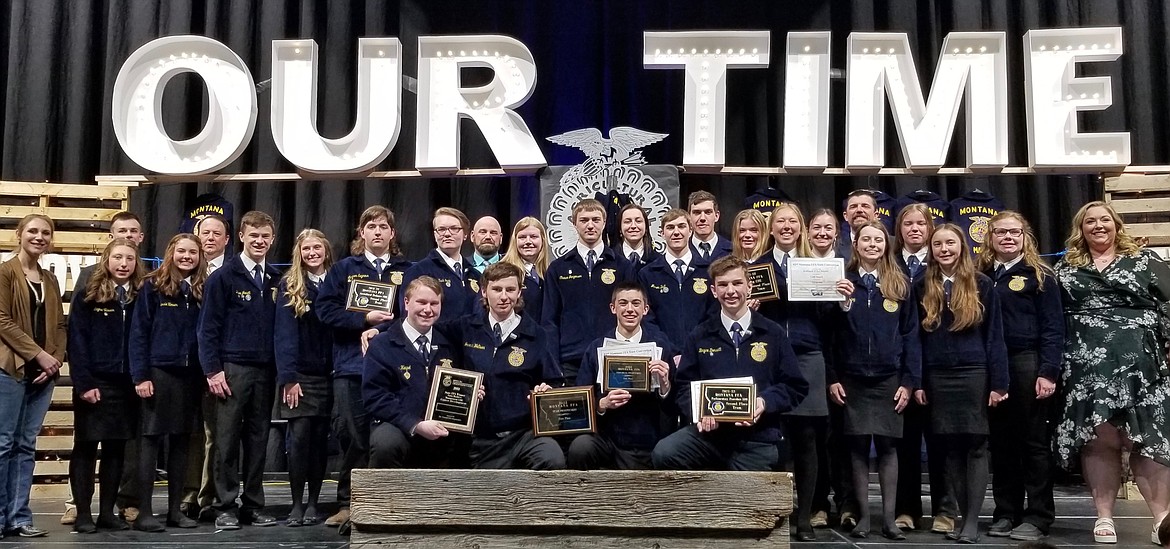 The Kalispell FFA state championship team is pictured. (Photo provided by Brian Bay)
The Kalispell FFA chapter earned the state sweepstakes champion title for their overall performance in recent career development event competitions.
Ethan Bay was named the individual state champion for his performance in multiple event competitions and was awarded $2,500 in college scholarships. Bay was state champion in Agronomy and Farm and Agribusiness Management and state-runner up, Evan Heupel. In other top awards, Delaney Modderman was recognized as the Star in Agribusiness winner.
The chapter attended state FFA CDE Days in Miles City and the Montana FFA Convention in Bozeman in March and April. Kalispell FFA members include Flathead and Glacier high school students.
Three teams came home state champions in Farm Business Management, Horse Evaluation and Parliamentary Procedures. The Farm and Agribusiness Management team included Ethan Bay, Colton Henrikkson, Evan Heupel and Grayce Siderius. The Horse Evaluation team included Mason Dall, Zack Gray, Cameron Seymour and AJ Opperman.
In second place, was the Agronomy team made up of Ethan Bay, Evan Heupel, Delaney Modderman and Addie Shepard in addition to the Agricultural Technology and Mechanical Systems team, which included Bryce Dorsett, Riley Glimm, Evan Heupel, Jessie Hoover, Laynie Vesser and Jeremiah Welliver.
"Our FFA members have been practicing and competing since September in different events. This has paid off for our students very well," said Brian Bay, H.E. Robinson Vocational Agricultural Education Center instructor.
Several students also earned state degrees, which means they met several requirements such as investing 450 hours in a work-based agriculture project referred to as a "supervised agricultural experience," having a minimum of two years of active FFA service and agriculture education classes. State degree recipients are: Nya Barber Castro, Faith Eberhart, Hollie Estey, Chance Jorgensen, Jenessa Levanen, Delaney Modderman, AJ Opperman, Ella Rauch, Libby Reiner and Atlanta Waltman.
Students awarded $500 scholarships at state included: Cody Carson, Hollie Estey and Grace Siderius.
Following are individual and team results.
Individual
Star in Agribusiness award
Delaney Modderman
Agricultural Technology and Mechanical Systems
Cameron Seymour
Agronomy
Ethan Bay
Farm and Agribusiness Management
Ethan Bay

Evan Heupel
Forestry
Ethan Bay
Horse Evaluation
Danielle Dixon

Riley Glimm
Meat Evaluation and Technology
Evan Heupel

Ethan Bay
Agriculture Sales
Addie Shepard
Veterinary Science
Jordyn Greene

AJ Opperman
Teams
Agronomy
Ethan Bay, Evan Heupel, Delaney Modderman and Addie Shepard
Agricultural Technology and Mechanical Systems
Mason Dall, Zack Gray, Cameron Seymour, AJ Opperman
Farm and Agribusiness Management
Ethan Bay, Colton Henrikkson, Evan Heupel, Grayce Siderius
Floriculture
Bryce Dorsett, Ace Hunt, Cazz Rankosky, Atlanta Waltman
Forestry
Ethan Bay, Evan Heupel, Dylan Jewett, Cameron Seymour
Horse Evaluation
Danielle Dixon, Riley Glimm, Jordyn Greene and Libby Reiner
Livestock Evaluation
Evan Heupel, Dylan Jewett, Maggie Reddig, Beth Young
Meat Evaluation and Technology
Ethan Bay, Evan Heupel, Jenessa Levanen, Delaney Modderman
Parliamentary Procedure
Bryce Dorsett, Riley Glimm, Evan Heupel, Jessie Hoover, Laynee Vessar, Jeremiah Welliver
Agriculture Sales
Hollie Estey, Delaney Modderman, Addie Shepard, Graycie Stolfus
Veterinary Science
Hollie Estey, Jordyn Greene, AJ Opperman, Ella Rauch
Reporter Hilary Matheson may be reached at 406-758-4431 or hmatheson@dailyinterlake.com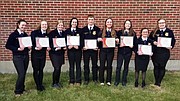 Recent Headlines
---